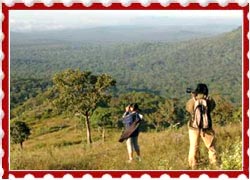 Bandipur national park is one of the famous Protected areas of India. It also an important Project Tiger Reserve. Bandipur is located in the Chamarajnagar district of southern Karnataka and adjoins the Madumalai National Park, located in the neighboring state of Tamil Nadu and the Wynad Wildlife Sanctuary in Kerala, and the Nagarhole National Park to the northwest. Bandipur has around 70 tigers and over three thousand Asiatic elephants. Below listed are some of the fun things to do and see in the Bandipur Wildlife Sactuary.
Fun Activities To Do In Bandipur
Jungle Safari
Bandipur is a safe haven for a wide variety of wild animals. Spotting tigers in the Bandipur national Park is not as easy as in Ranthambore, but they exist in considerable numbers. A mini-bus Safari or jeep safari would be ideal to chance upon any opportunity of sighting a tiger. The sanctuary is also home to other animals like elephants, panthers, Jackals, spotted deer, sloth bears, grey langurs and snakes from cobra to the python. It is possible to sight them congregating around the guest houses. Four-horned antelope is also a member of the forest but it's rarely sighted.
Bird Watching
The Bandipur sanctuary can boast of being home to about 300 species of birds. Enjoyed by people of all ages, birdwatching can be an excellent way to pass time, especially if you have not been lucky enough to sight the tiger. Bird watching can be more fruitful in the morning hours and can be a real treat for the enthusiastic birdwatchers.
Trekking & Hiking
Trekking on the Himavad Gopalaswamy Betta hilltop is also an exciting activity to do in Bandipur. On the top of the hill is a temple dedicated to Lord Krishna. A beautiful mist covers the area for most part of the year. In fact, there is a greater chance of sighting animals from this hill top. Take along your trekking shoes and make sure that you make minimum noise so that you donít disturb the natural habitat.