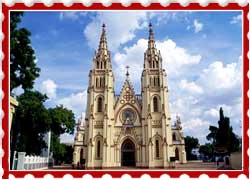 The garrison city of Belgaum boasts of a number of tourist attractions including the sprawling Belgaum Fort. Belgaum tours would help you appreciate these monuments.
Belgaum Fort
Located in the heart of the city, the Belgaum Fort towers over the Belgaum landscape with its elliptical layout. One of the oldest forts of Karnataka, the Belgaum Fort is unique for a myriad of religious shrines within its ramparts. At the entrance, two shrines devoted to Ganapathi and Durga exist in harmony with the two ancient mosques, the Safa Masjid and the Jamia Masjid.
Kamala Basti
Located inside the Belgaum Fort are two Jain bastis built in the Late Chalukyan style. Of these, the more famous is the Kamala basti, built in 1204. The Kamala Basti has a huge protruding lotus (Kamala) in its ceiling and houses the idol of the twenty-second Jain Teerthankara Neminatha.
St. Mary's Church
A tour of Belgaum should feature the city's majestic churches. The St. Mary's church in Belgaum boasts of an awe-inspiring architecture. Built in 1869, the gothic stone structure of the church features imposing stained glass windows. Biblical drawings adorn the walls of the church. Other prominent churches are: St. Xavier's church, St. Anthony's church, the Cathedral of Our Lady and Methodist church.