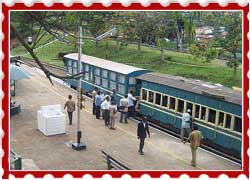 One of the most popular hill stations of Karnataka, Coorg is located in the southwestern part of the state. Also known by the name of Kodagu, it is mostly known for offering some of the most breathtaking views of nature. Apart from that, the place also boasts of a rich historical past. In this article, we will provide you information on how to reach Coorg.
Traveling to Coorg
By Air
Though Coorg does not have an airport of its own, you can get to the place using air services from the nearest airport. The closes air link from Coorg is provided by Mangalore airport, which is situated at a distance of around 135 km. Jet Airways Konnect and Kingfisher Red operates direct flights to Bangalore, from the airport. Apart from that, it also has flights to domestic destinations like Calicut, Chennai, Cochin, Goa, Mumbai and Trivandrum and international destinations like Abu Dhabi, Bahrain, Doha, Dubai, Kuwait, and Muscat. The next nearest airport is at Bangalore, about 260 km away.
By Rail
Coorg is not connected by train services directly, as it does not have a railway station is its own. The nearest rail link from the place is provided by Mysore, 146 km away. The other stations near Coorg are those of Hassan, Mangalore and Tellicheri.
By Road
Regular buses as well taxis ply between Coorg and Mysore (120 km), Mangalore (135 km), Bangalore (260 km), and Hassan (115 km). If you want to drive down to the city, remember that NH48 connects it with all the major cities in and around Karnataka.