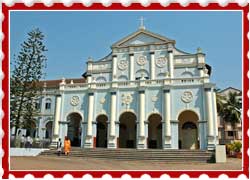 Avail Mangalore tours to explore the myriad of tourist attractions.
Kadri Manjunath Temple
Located at the foot of the Kadri Hill, the Kadri Manjunath temple enshrines the deity of Lokeshwara. The idol of Lokeshwara, a three-faced figure with six arms, is reputed to be one of the best bronze statues in India. The origin of the Kadri temple can be traced to 1068 AD. A 'Jogimutt' and some stone caves located atop the Kadri hill are believed to be the caves of the Pandavas, mythological figures from the epic Magabharata. Pilgrims throng these caves in large numbers.
Mangaladevi Temple
Mangaladevi temple is dedicated to Mangaladevi, the presiding deity of Mangalore. Mangaladevi was a princess of Kerala, who came here accompanying Matsyendranatha, one of the propounders of the Nath cult and breathed her last on this land. The 10th century temple is situated 3 Km. away from main City Bus stand. This temple built by the Ballal family of Attavar.
St. Aloysius College Chapel
Built in the year 1899-1900, St. Aloysius College Chapel is located on the light house hill. For its sheer architectural beauty, the Chapel is regarded on par with the famous Sistine Chapel in Rome. Exquisite frescoes adorn the walls and the ceilings of this structure, which are regarded to be the creation of trained Jesuit priest Antony Moscheni.
Sultan Battery
This watchtower was built by Tipu Sultan to prevent enemy warships from entering the Gurpur River. Cannons mounted on vantage points of the tower used to mow down the enemy with enormous firepower. Remnants of the original fort-like structure today constitutes what is called the Tipu's well. It is today a deserted spot but its construction is bafflingly exquisite.