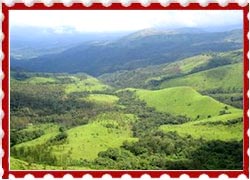 Min Temperature:
25
0
C (Summer), 10
0
C (Winter)
Max Temperature:
35
0
C (Summer), 32
0
C (Winter)
Best Time to Visit:
October to March
Chikmagalur, which is known across the world for its rich coffee, is located in the shadow of the Western Ghats. Spread over an area of 7,201 sq km, the district spans across the latitudinal parallels of 12° 54' 42''and 13° 53' 53'' north and the longitudinal meridians of 75° 04' 46'' and 76° 21' 50'' east. It bounded by Shimoga, Davangere, Chitradurga, Tumkur, Hassan, Dakshina Kannada and Udupi districts of Karnataka. The district enjoys a salubrious climate the year round. Still, the best time to visit it is from October to March. Read on to get more information on the weather and climate of Chikmagalur.
Summer
While most of the Karnataka districts reel under oppressive heat during summers, which last from March to June, the pleasant weather in Chikmangalur provides a welcome respite. The hilly terrain and the fresh breeze that flows in through the 25-km long Palakkad gap of the Western Ghats keeps the temperature in check. The average temperature in the city remains in the range of 25oC to 35oC
Monsoon
The monsoon season in Chikmagalur lasts from June to September, with the maximum rainfall being recorded in June, July and August. The city records an average annual rainfall of 1886 mm.
Winter
Typical of hill stations, winter in Chikmagalur is colder than the rest of Karnataka. You will feel a nip in the air during the winter months of December to February and the occasional breeze would send shivers up the spine. The average temperature during this season remains in the range of 10oC to 32oC.
Clothes to Wear
Opt for cotton apparels during the summer and if a winter tour is on your mind, don't forget to pack a bagful of warm clothes. Enthusiastic souls planning to hop along the mountain treks should bring along trekking gear and other accessories.