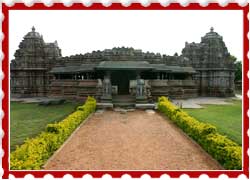 The hilly terrain and scenic surroundings of Chikmagalur will soothe your souls during the Chikmagalur sightseeing tour. Chikmagalur tours will include the lofty Baba Budangiri peaks and expansive tracts of coffee plantations.
Angadi
Historians have identified Angadi as Sasakapura or Sosevur, the original home of Hoyasalas who held sway in vast swathes of South India. The shrine here has pillars of granite with cylindrical shafts and hemi spherical mouldings.
Belavadi
The pilgrimage of Belavadi is dotted with a number of ancient temples and shrines. The Veeranarayana temple is a supreme example of Hoysala temple architecture.
Coffee Plantations
Sprawling coffee plantations dot the landscape of this hill station. As a major coffee producing hub of the country, it hosts a number of coffee curing centers where the raw coffee is dried, shelled, winnowed, graded and packed. When coffee bushes blossom in April, the whole area is filled with the exquisite fragrance of the brilliant white flowers. The Central Coffee Research Institute is located in the district.
The Baba Budangiri Hills
The Baba Budangiri hills are named after the Muslim saint, Baba Budan, who took up residence here in the 17th century. The Baba Budan Shrine is revered by both the Hindus and Muslims and thousands of devotees throng the shrine for the blessing of the peer. A complex of three caves can be found here, believed to have been sanctified by 3 revered siddhas whose icons and 'gaddinges' (tombs) are located in the caves.