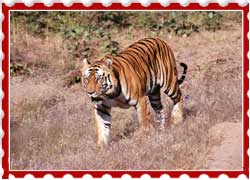 Tucked away amidst the lofty peaks of the Western Ghats, the Bhadra Wildlife Sanctuary is a well-known Project Tiger reserve. The wildlife sanctuary is called so after the Bhadra River which meanders through the lush forests. The area was declared the Jagara Valley Game Reserve in 1951 by the Government of Mysore. In 1974, after a census of the animal species in the adjoining areas, the sanctuary was reconstituted as the Bhadra Wildlife Sanctuary.
The Bhadra Wildlife Sanctuary boasts of a substantial tiger population and as such the sanctuary was declared the 25th Project Tiger reserve of India in 1998. Bhadra is popularly known as Muthodi Wildlife Sanctuary, after the village on its fringes.
Flora at Bhadra Wildlife Sanctuary
The lush green vegetation of the Bhadra Wildlife Sanctuary consists of mostly moist and dry deciduous forests. More than 120 tree species grow here, which include Teak, Rosewood, Mathi, Honne, Nandi, Tadasalu and Kindal.
Fauna at Bhadra Wildlife Sanctuary
Besides being the perfect haven for tigers, the Bhadra sanctuary plays host to exotic animal species. The elephant, gaur, tiger, panther, sambar, spotted deer, mouse deer, barking deer, sloth bear, wild boar, wild dog, mongoose, porcupine, jackal, and the common langur are some of the mammals found here. Among birds, you can spot the black winged kite, king vulture, great horned owl, great pied hornbill, Indian tree pie, black napped flycatcher and the open billed stork.
How to Reach Bhadra Wildlife Sanctuary
Air
The nearest airports are Mangalore -- 180km and Bangalore -- 265km.
Rail
The railhead closest to Bhadra is Kadur, 40km.
Road
The nearest town is Chikmagalur, 30km away. Bangalore is 265km away.