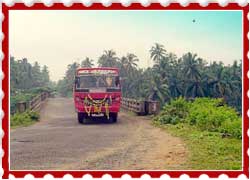 Chikmagalur, the district headquarters of Chikmagalur district, is 240 km from the state capital of Bangalore. Situated amidst the Baba Budan hills, the town is known for its serene environs and picturesque beauty. The hills, valleys, streams and snow-white coffee blossoms around the place attract tourists from far and wide. In case you are also planning are visit it in the neat future, go through the following lines and know how to reach Chikmagalur.
Traveling to Chikmagalur
By Air
The nearest airport from Chikmagalur is that of Mangalore, which is approximately 170 km away. It is well connected with the rest of India, especially the cities of Bangalore, Chennai, Delhi, Mumbai, etc. Indian Airlines and Jet Airways operate regular flights from the airport. The next nearest airports from Chikmagalur are those of Bangalore and Hubli.
By Rail
Kadur provides the nearest rail link from Chikmagalur. From there, you can easily find express trains to Bangalore, which cover the distance in approximately 3 to 3.5 hrs. After getting down at Kadur, you will easily find buses as well as taxis for Chikmagalur, which will take about 40-45 minutes to reach the place. At present, the rail link between Kadur and Chikmagalur is under construction.
By Road
NH 48 connects Chikmagalur with all the major cities in Karnataka as well as the neighboring states. The city is situated at a distance of 240 km from Bangalore and 170 km from Mangalore. From Bangalore, you can take either NH206 for Kadur or NH48 for Hassan. From there, get on the road to Chikmagalur. In case you donít want to drive, regular KSRTC bus service is available between Bangalore and Chikmagalur.