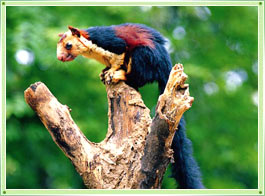 Situated in the central part of Kerala, Thrissur is a place that offers you the perfect blend of natural beauty, cultural heritage and architectural splendor. No wonder, it is counted amongst the most popular tourist destinations in Kerala. The colorful festivals that are celebrated here every year only add to the charm. In case you are planning to visit the city in the near future, then going through the information given below, on what to do and see in Thrissur, will prove handy.
Fun Activities to Do in Trichur
Wildlife Viewing
For the nature lovers, Thrissur offers Peechi Vazhani Wildlife Sanctuary, which was established in the year 1958. Today, it serves as home to more than twenty five types of mammals. Of these, the ones that nature enthusiasts mostly look forward to seeing are tiger, leopard and fox. Apart from that, you can also hope to see herbivorous animals like elks, deer, and barking deer in the park. Even herds of spotted deer can be seen commonly. The sanctuary houses bison and elephants as well. However, they are rarely seen.
Bird Watching
Peechi Vazhani Wildlife Sanctuary is covered with more than 50 different orchids and innumerable rare medicinal plants. The rich flora of the park has made it the abode of as many as 60 different types of birds, which includes both the resident birds and the migratory birds. So, in case you are an avid bird lover, you will find the sanctuary to be nothing short of a paradise. Apart from the birds, the sanctuary also houses as many as 10 different types of snakes.
Pilgrimage
If you have come to Thrissur, paying a visit to the Guruvayoor temple is a must, Touted to be one of the greatest Krishna Temples in the whole of Kerala, it is said to have been built by Guru (preceptor of Gods) and Vayu (God of winds), thus the name. Another temple in Trichur that is surely worth giving a look at is the Thriprayar temple, dedicated to Lord Rama. It is know for exquisite architecture, full of ornate carvings on the walls and pillars. Last, but not the least, is the Ayyappa Temple, famous for its Aarattupuzha Pooram festival.
Exploring Heritage
For those who love to delve into the history and explore the rich past of a place, Sakthan Thampuran is surely worth visiting. Also known as the Vadakkekara Palace and the Kudakkallu, it is a Kerala-Dutch style palace that was built by the great ruler Raja Rama Varma. In the city, you must also explore the umbrella rocks of Chiramanangad, believed to be more than four thousand years old. The Archeological Museum and the Art Museum are the other attractions of Trichur that would interest a history-buff.