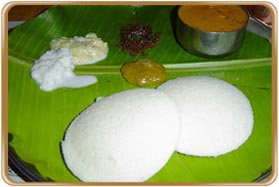 Traditional Tamil Nadu Cuisines
Tamil cuisine is characterized by its great aroma and flavor. Rice is the major staple food of most of the Tamil people and is usually steamed and served with a number of accompanying items including sambar, dry curry, rasam, kootu and thayir (curd) or moru (whey or buttermilk). In Tamil Nadu lighter meals usually include one or more of Pongal, Dosai, chapati, idli or Vadai. The above-mentioned traditional Tamil food is available all over the state. Besides exploring the monuments and cultural aspects of Tamil Nadu, you can try your hands at the traditional Tamil food. We are sure that the spicy and aromatic Tamil cuisines will surely arouse your taste buds. The traditional Tamil food items are available in all types of restaurants, including the star hotels. Other major Indian cuisines (both vegetarian and non-vegetarian) are also available at some restaurants across cities like Chennai, Coimbatore and Madurai. While in Tamil Nadu, it is advisable that you must try out the famous Chettinad food (so famous for its non vegetarian dishes). At Paramakudi restaurant at Chennai, you can try some fantastic Chettinad dishes.
Non-Indian Food/ Fast Food
If you are craving for pizzas, pastas or Chinese foods, don't worry as most of the tourist places and big cities of Tamilnadu (Chennai, Madurai, Coimbatore etc) have fast food restaurants/joints to take care of your taste buds. Big cities and towns in Tamil Nadu have outlets of Pizza Hut, Pizza Corner, Domino's and McDonalds. It is advisable that you eat in any of the fast food joints as the quality is guaranteed. You will find tons of Chinese (Indo-Chinese to be more specific) stalls in every nook and corner, which pretty well take care of your appetite for the Chinese dishes.