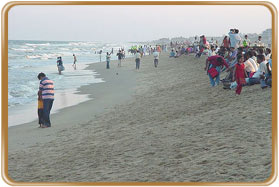 Covelong Beach lies in a picturesque village on the State Highway that joins Chennai to the temple town of Mahabalipuram. This is one of the most beautiful and virgin beaches of India and adjoins a small but charming fishing village on the coast of the Bay of Bengal.
The present Covelong beach is located on the site that was developed originally as a port by Saadat Ali, Nawab of Carnatic. The port was constructed purely for political and strategic purpose. It is the same place where the French General Laboudonnais anchored his navy unit in the year 1746. The port fell to Lord Clive in the year 1752, during the Carnatic War, and was promptly destroyed to stop further French onslaughts. The beach is separated from the mainland by the canal that runs parallel to the Bay of Bengal.
From a sleepy fishing village till early nineties, Covelong has turned itself in to a famous picnic and excursion spot. Among others, the place offers facilities like Wind Surfing, Water surfing and Swimming. An ancient Catholic Church, a Mosque and the Fort surround the beach. All these buildings are very old and historically important. Take a walk around the Church and the Fort if you could spare some time from sunbathing.