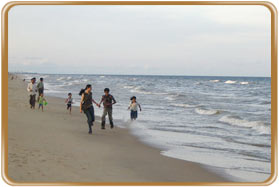 Elliots, one of the cleanest beaches in the city of Chennai, is located off the Annie Besant Nagar. Backpackers who want a clean beach that is far from the madding crowd frequent Elliots. The beach is actually an extension of the famous Marina Beach in Chennai. Take a walk down south from the Anna memorial and you will reach Elliots in five odd minutes. The place is great for spending quality time with your loved ones or for that matter, with yourself.
Till early nineties, Elliots was very popular among western backpackers who wanted a secluded place for semi-nude sunbathing. But as its popularity grew among the locals, westerner vanished. Today, young couples that want to spend quality time away from meaningful glances mostly frequent Elliots. The beach has some good fast food joints and memorabilia stores.
The famous Velanganni Church is in the vicinity and so is the Ashtalakshmi temple. Both these constructions are rather new but attract lots of eyeballs due to their unique architectures. Take a walk around Velanganni Church and appreciate this marvel of Portuguese architecture.