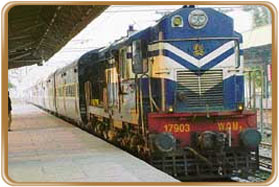 Chennai is the capital of the Indian province of Tamilnadu. Chennai is not only the largest city in the Deccan Plateau but also the 4th largest city in India. The place is a major tourism and commercial destination in India and therefore it is very well connected to the rest of the country.
By Air
Chennai has an international airport with flights connecting all the major cities of the world. Domestic airlines connect Chennai with all the major cities of India. Nearly all the major airline carriers in India provide their service to Chennai.
By Rail/Train
Regular train services connect Chennai directly with all major cities of the country. Various Super Fast and Express trains run from various provincial capital and other important destinations to Chennai. Suburban Electric trains run from Beach station to Tambaram and from Central to Gummidipoondi and Arakonam.
By Road
Excellent roads from all parts of the Peninsular India connect Chennai. Both Tamilnadu State Transport Corporation as well as private operators provide bus link from Chennai to other cities of the Deccan Plateau. Taxis, Auto-rickshaws and cycle rickshaws are easily available. All types of tourist vehicle are easily available as well.