Indian Baggage Rules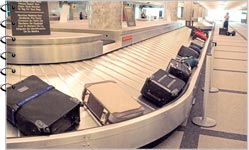 The baggage rules in India are almost the same as they are in the rest of the world with just a few exceptions. The Indian baggage rules are quite stringent and are implemented with a firm hand. So when you visit India, make sure you are acquainted with Indian luggage rules to avoid any confusion. Mostly, passengers get a duty free allowance, which enables them to bring their baggage without paying any duty. Personal and household items are treated as baggage only and can be brought along without any restrictions. There are some specific items on which one will have to pay duty. There are also certain restricted goods that cannot be brought. Read on further about those restricted items.
Restricted Items
Any offensive material like obscene books, pamphlets, papers, illustrations, paintings, representation, figures, article or objectionable literature are not allowed keeping in mind the Indian sensibilities.
Dangerous drugs such as cocaine, charas, opium, hemp morphine and their mixtures and derivatives.
Fire arms and any other form of weapon.
Jewellery or articles made of gold or silver are permitted but in a limit. The total value should not exceed Rs.20, 000/- for females and Rs.10, 000/- for males.
Tourists should declare their currency amount in the Currency Declaration Form if currency notes, bank notes or TC's (traveler's cheques) are in excess or equal of US $10,000.
Pets are allowed but in a limited number and one has to take permission of the airport authorities.
Plants and their parts like soil seeds, dry fruits, fruits, vegetables, coffee beans, flowers, cotton and un-manufactured tobacco which may contain pests or diseases.

Taj Mahal Tour

Rajasthan Tours

Kerala Tours

Kashmir Tours

Tamilnadu Tours

Adventure Tours India

Beach Tours India

Desert Tours India

Pilgrimage Tours India

Ayurveda Tours India

Buddhist Tours India

Temple Tours India

Sculpture Tours India

Golden Triangle Tour

India Heritage Tours

Hill Tours India

Honeymoon Tours India

Kerala Backwaters Tour

India Train Tours

Trekking Tours India

India Wildlife Tours

Karnataka Tour

Nepal Tour

Orissa Tour

Gujarat Tour

Andhra Pradesh Tour

Maharashtra Tour

Chardham Tour

Golden Chariot

Himachal Pradesh Tour

Sikkim Tour

Madhya Pradesh Tour