India Location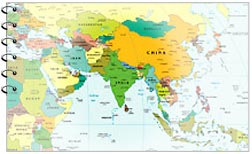 You will find extremes in terms of the geographical location of India. The Indian geography comprises of snow-capped mountains and warm turquoise blue beaches on the same sub continent. The topography of India is very diverse and is home to some of the most astonishing flora and fauna. India has the mighty Himalayas in the north that almost look like a crown of India and they separate India from the rest of Asia. The south has hilly coastal areas known as Western and Eastern Ghats. India is the only country to have an ocean named after it. Quite contrasting to the lush green coastal areas, India has the Thar Desert on the northwest part of the country in the state of Rajasthan. Geographically, India is the seventh largest country in the world. Read on further for more such amazing information.
Location of India: Southern Asia
Latitude: 8.4o to 37.6o North
Longitude: 68.7o to 97.25o East
Neighboring Countries: Bhutan, Burma, China, Nepal and Pakistan.
Seas/Oceans: Arabian Sea (West), Bay of Bengal (East), Indian Ocean (South)
Islands: Lakshadweep Islands in Arabian Sea, Andaman and Nicobar Islands in Bay of Bengal
Mountain Ranges: Himalayas in the north. Highest peak is the Kanchenjunga, which measures over 8000 meters.

Taj Mahal Tour

Rajasthan Tours

Kerala Tours

Kashmir Tours

Tamilnadu Tours

Adventure Tours India

Beach Tours India

Desert Tours India

Pilgrimage Tours India

Ayurveda Tours India

Buddhist Tours India

Temple Tours India

Sculpture Tours India

Golden Triangle Tour

India Heritage Tours

Hill Tours India

Honeymoon Tours India

Kerala Backwaters Tour

India Train Tours

Trekking Tours India

India Wildlife Tours

Karnataka Tour

Nepal Tour

Orissa Tour

Gujarat Tour

Andhra Pradesh Tour

Maharashtra Tour

Chardham Tour

Golden Chariot

Himachal Pradesh Tour

Sikkim Tour

Madhya Pradesh Tour