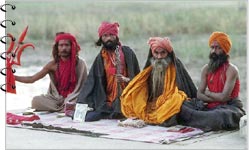 India is the land of religions. The Indian religions are so diverse and so widespread, that it is difficult to club India under one religion. There are many religions in India that co-exist peacefully and in harmony. The religious festivals are celebrated by all, as Indians, irrespective of caste and religion. On one hand you will find Muslims celebrating Diwali and on the other, Hindus enjoying Id. Read on further to know the diverse religious conviction of India and the major religions.
Hinduism
It is believed that Hinduism was the oldest religion to come into existence in India. Almost 80% of the population follows the Hindu religion in India.
Islam
The second most dominant religion after Hinduism is Islam. In India, almost 14% of the population follows the Islam religion.
Christianity
Christianity is the third most dominant religion in India with almost 4% of the population consisting of Christians.
Sikhism
About 2% of the total population of India comprises of people who follow the Sikh religion also known as Sikhism.
Other Religions
Rest of India consists of Buddhists, Jains, Parsis, Zoroastrians and Jews. These religious groups are less than 2%.