Handling Beggars in India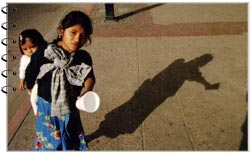 You may see lots of beggars on the streets and the main roads, begging for alms on the traffic signals. Though most of them leave after begging for a minute or two, handling beggars in India is an acquired skill as some may be too nudging and reluctant to leave unless you give them some money. In order to help you out, we bring you some beggar handling tips that will prove useful during your travel in India. Read on further to know how to handle beggars in India.
You can give food or eatables to the handicapped and the really old ones. But, look out for some beggars posing as handicapped ones. They trade crutches with fellow beggars and go around begging.
Some women beggars with a small malnourished baby may use hand gestures to signal they are hungry. It is okay to give them food or eatables. But, watch out for some women who trade babies for this purpose.
Never ever give food or eatables as soon as you get out of your vehicle. Give some alms the moment you are about to step back in your car. That way, you can roll up your windows to put off prying hands.
Don't be surprised to see children begging on the streets. Most of them are young kids, hardly 5 years old, who have been sent by their parents to beg for money. It is best to give them some left over food or candy. Children can't resist candies and it is better than giving them money.
If you really feel for the beggars or such needy and poor people the best way is supporting locals and charities which would go to the needy person in the most effective way.

Taj Mahal Tour

Rajasthan Tours

Kerala Tours

Kashmir Tours

Tamilnadu Tours

Adventure Tours India

Beach Tours India

Desert Tours India

Pilgrimage Tours India

Ayurveda Tours India

Buddhist Tours India

Temple Tours India

Sculpture Tours India

Golden Triangle Tour

India Heritage Tours

Hill Tours India

Honeymoon Tours India

Kerala Backwaters Tour

India Train Tours

Trekking Tours India

India Wildlife Tours

Karnataka Tour

Nepal Tour

Orissa Tour

Gujarat Tour

Andhra Pradesh Tour

Maharashtra Tour

Chardham Tour

Golden Chariot

Himachal Pradesh Tour

Sikkim Tour

Madhya Pradesh Tour