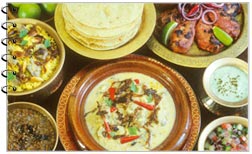 Indian food has a wide range of varied cuisines that are absolutely lip smacking. There are so many types of food in India that it becomes difficult to choose from the diverse range of traditional food in India. Just like the amalgamation of cultures, we have an amalgamation of food styles too. Some are authentic, some are inspired and some are discovered accidentally! Though there is no scarcity of food, the range that India offers is so gigantic that you may not able to decide what to eat in India. Read on further for details on the Indian food that is prepared with generous doses of love.
North Indian Food
The staple food crop of northern region of India is wheat. A typical traditional north Indian balanced diet would consist of Roti (baked wheat pancakes) or Parathas (wheat pancake stuffed with mashed vegetables) served with dal, which is a watery preparation of pulses. North India also uses milk and other dairy products in their daily diet. Yogurt, milk, ghee (clarified butter), butter and paneer (cottage cheese) are widely used in most dishes along with spices. The non-vegetarian variety is highly inspired from the Mughlai cuisine and is absolutely delicious. Oil is generously used, as many people prefer deep fried curries and other preparations.
South Indian Food
The southern food is ruled by rice and preparations made from rice. It is light and easily digested. A main ingredient used in most dishes is grated coconut or coconut oil, which adds to the essence of the food and creates an aroma which is enough to send you scurrying to the nearest food joint. A typical south Indian meal would consist of rice served with piping hot sambhar (vegetable gravy with pulses), rasam (soup like preparation), curd and pickles along with atleast two different varieties of vegetables prepared in two different styles. A light crisp item called "pappadam" for occasional crunching in between is also served. South Indian food is less greasy and oily as compared to north Indian cuisine as most items are steamed or shallow fried. Other very popular south Indian preparations are dosa (fermented rice pancakes), idli (steamed rice cakes), Vada (fried doughnut like items that are not sweet), to mention a few. South Indians are known to use generous amounts of home made spices that make the food really tasty. Most non-vegetarian dishes have fish as the main ingredient and other forms of sea food.
East Indian Food
Most east Indians have an innate bond with anything sweet. The eastern region of India is famous for some of the most popular sweets. They offer a large variety of sweets that are an absolute delight for anyone with a sweet tooth. Rice dominates the main meals and the oil used in cooking is usually mustard oil. Some very popular dishes are momos, jhaal muri, macherjhol (fish curry), thukpa (soup preparation) and anything related to fish! The desserts are a must have if you visit the eastern regions of India.
West Indian Food
The western region of India has a wide range of dishes to offer. The Rajasthani cuisine has less of vegetables because of the desert like conditions but they have a wide variety of spicy chutneys and pickles. The people in Gujarat add a pinch of sugar to almost every dish. The typical Gujrati "thali" consists of atleast 10 different varieties of vegetables alone! The people of Maharashtra prepare a dish called "puran poli" that is famous throughout the country. Most of the items are steamed and roasted that make it easily digested.