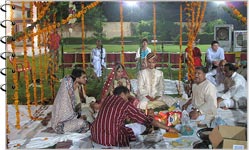 India is a modern country yet the customs and traditions are religiously followed in urban as well as rural India. These traditions of India are what give India an individual identity and lend a mystical essence to the atmosphere. One finds a unique and harmonious co-existence of many different religions in India. This gives rise to an umpteen number of traditions. India is a secular country and everyone has the right to pursue a religion of his/her own choice. Indian customs and rituals vary from one region to another, yet they are known in a collective form of Indian traditions. Read on further to know about the unique customs, rituals and traditions of India.
Traditional Welcome
In India, a guest is considered as equal to God. So welcoming a guest is no less than an event. The guest is given a very warm traditional welcome in which he/she is garlanded and given a welcome drink. Then a "tikka" (vermillion) is applied on the forehead and a small "aarti" is performed. The Indian phrase for this is "Atithi Devo Bhava". This phrase is also used for a campaign launched by the Tourism Ministry of India to highlight the rich culture of India.
Lighting Lamp/Diya
A small lamp, which is known as "diya" is lit before the picture or idol of god. Along with the diya, incense sticks are also lit. It is lit in the early hours of morning or evening or both. It is considered to bring good luck to the house and is also considered sacred.
Namaskar/Namaste
People in India greet each other by joining the palms at almost the chest level and saying "namaste". It is used for both "hello" and "goodbye".
Prostrating
The youngsters in India show respect to elders by prostrating before the elders of the family. They kneel down and touch the feet of their parents as a sign of respect and to receive their blessing and good wishes. The elders bless by touching the head of the child.
Birth Ceremony
Indians rejoice the birth of a kid by conducting a small ceremony. This usually takes place some days after the child has come home. A priest is called to preside on the holy rituals. The child is made to lie down on a beautifully decorated cradle and the priest decides the first alphabet of the child's name.
Wedding Ceremony
Most Indian weddings are held in much grandeur with an amazing display of fireworks, dance, music and lip smacking cuisines. Infact, Indian weddings are not a one-day affair, most of them continue for 3-4 days.
Death Ceremony
Indians pay much respect to the deceased. The person is cremated according to certain rituals and the ceremony lasts quite some days.