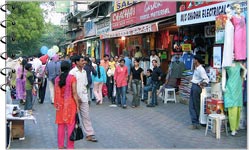 The people in India love to dress up for any occasion, even if it means going to the school to pick up your kid. You will find the hippest and the most traditional attires being worn in the same household. The current generation is brand conscious yet values money. The solution to this paradox lies in the Indian flea markets. These popular flea markets in India sell the most stylish and comfortable clothes and casuals that are preferred by this generation. You can find all youngsters thronging these street markets of India, striking a good deal with the salespersons and walking off with their catch!
A thumb rule that every youngster swears by is bargaining. The traders raise the price to sometimes double the original cost. Ideally, one should bargain upto 20-30% of the quoted price. So if a trader quotes a price of Rs.200 for an article, bargain till Rs.120 or at the most Rs.150. Almost every major city in India has a chain of flea markets selling those knick knacks that you can buy for yourself and your friends back at home. Read on further about the major flea markets in different cities.
Goa Flea Markets
Goa is the perfect place to shop for souvenirs and those little knick-knacks that never seem to run out of fashion. The best places to hunt for these are the flea markets of Goa. The most famous flea market of Goa is the Anjuna flea market. Apparently, this market was started off by the hippies many years back. Today the flea markets are the favorite haunt of locals as well as tourists. One can find everything and anything in these flea markets. Not just clothes and souvenirs, one can also find enthusiastic musicians, tarot readers, palmists, etc. sitting here and there to amuse tourists.
The flea markets of Goa are the best place to try out local Goan cuisine. Some of the favorite souvenirs that are bought by people are beachwear, trinkets made of shells, sarongs, bandanas, bamboo work, crochet, etc. Another popular item that is bought by most people is the salted cashew nuts. It is normal to see people bargaining over the prices and has almost become an unspoken rule. The flea markets of Goa are the perfect place to see the cultural amalgamation that Goa is rich in and are a must visit.
Delhi
The most glamorous shopping area in the heart of the city is the Connaught Place, built during the British Days, with a beautiful fountain and park in the center, with convenient and ample parking spaces. Radial roads lead out of this center point to all parts of Delhi. It houses an underground shopping plaza "Palika Bazaar" where you can find extensive items ranging from clothes, bags, shoes to even silver jewellery. Also, the most famous Janpath is located in Connaught Place, which a favorite haunt of all college going kids who come there to shop for the most stylish clothes available at surprisingly affordable prices. Another place famous near Janpath is Central Cottage Industries Emporium in the STC Building Complex, which is paradise for handicrafts' lovers. For the brand conscious, we have the posh markets and branded showrooms in the areas of South Extension, Vasant Vihar, INA Market, Greater Kailash located in south Delhi. A handicraft market called Delhi Haat is located right opposite INA market and offers traditional handicrafts of rural India. You can also get a taste of delicious traditional food of India in the stalls of different states. In the central region of Delhi, we have the Khan Market that has a good collection of clothes and shoes along with junk ornaments. Towards the west of Delhi, we have the "always crowded" Karol Bagh, which is a unique amalgamation of malls, brand names as well as flea markets.
Mumbai (Bombay)
You will find an unusual collection of jewellery, antiques, wooden articles and leatherware and general bric-a-brac at the famous Chor Bazaar. Try to bargain with the traders and you will normally strike a good deal with them. Another market worth visiting is the Crawford market, which is famous for its variety in flowers, fruits and meat and also makes a good picture to be captured in your camera. You can get an excellent collection of jewellery at the Zaveri Bazaar, which is popular throughout the city. Also worth a visit are the state emporiums located in the world Trade Center that offer exclusive and wide range of hand made articles like carpets, shawls, etc. the prices are slightly higher but worth the quality. Close to the famous Metro cinema is the Fashion Street that offers a wide range of summer clothes to be stacked in your collection.
Chennai (Madras)
Chennai, previously known as Madras, is the capital of Tamil Nadu. It is located in the south of India. Chennai is a paradise for shoppers. The famous Mount Road has several emporiums lined up and covers a distance of almost 8 kilometers from North to South. The emporiums and malls offer a wide range of products that include clothes, jewellery, bags and shoes along with lip-smacking south Indian cuisine. The more branded and expensive items are available in Anna Nagar area, which is located towards the north western region. The famous Indian silk comes from Kanchipuram and is available at prominent market places of Mylapore, Panagal Park and Pondi Bazaar at T.Nagar. Egmore is an upmarket shopping area that is dominated by various Shopping Plazas and big Departmental Stores.
Kolkata (Calcutta)
The overcrowded lanes of Kolkata (previously known as Calcutta) still have the old trams that ply in this beautiful city. Kolkata has its own share of different government emporiums and cottage emporiums located at the Chowringhee Lane. You can find wonderful handicrafts from all states over here. Another popular shopping center in Kolkata is the Bentinck Street that sells leather shoes, leather accessories and also is lined with sweet shops. You won't find a single street in Kolkata that does not have a sweet shop. You can find a wide assortment of commodities in Gariahat. For a wide range of ethnic goods, a visit to the famous Tirreta Bazaar should prove worthwhile. For big malls and glittering showrooms, visit the Park Street which houses all reputed brands. Another place where you will find everything under one roof is the famous New Market, which is ironically one of the oldest markets in Kolkata.