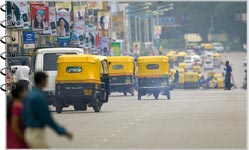 There is no dearth of local transport in India. There are many cheap and affordable means of transportation in India that are available almost everywhere and anytime. Most locals depend on these means of transport for commuting from one place to another. The local Indian transport is a highly developed network that connects the busiest places as well as the remotest locales. Read on further about the local transport for commuting within India.
Buses
Buses are the cheapest means of local transport in India. Almost every city in India has a highly developed network of buses that ply from one place to another and cover long distances in a short time. It is best to enquire the routes before boarding a bus. You can ask fellow passengers on the bus stop as to which bus will go to your destination.
Auto Rickshaws
An auto rickshaw is also called auto or a three-wheeler. An auto is a small vehicle, usually in a combination of green and yellow or black and yellow. There are no doors or seatbelts. The right side of the auto is usually bound by iron rods to prevent anyone from falling. There is a single seat in the front for the driver and a wider space at the back for seating minimum 3 people. All autos are provided with a meter for calculating the fare, though most auto drivers don't use the meter. So while hiring an auto, fix an amount and negotiate.
Taxis/Cabs
You can find many cabs on the roads or you can always hire one from the numerous taxi stands strewn across the major cities. There are pre paid taxis also available at major railway stations and airports. You can also hire luxury vehicles from certain travel agencies.
Cycle Rickshaws
The cycle rickshaw has been on the Indian roads since ancient times. It is like a big tricycle that has a seat in the front for the rickshaw puller and a wide seat at the back to accommodate two people. It is an experience in itself and is the cheapest mode of transport for traveling short distances. The rickshaw pullers charge a nominal amount for their service. If you feel the amount is too much, do not hesitate to bargain.
Metro Rail
The major cities have a well-planned metro rail network. Calcutta has the oldest network of metro in India. Though metro is not available all through India, most cities like Delhi have a pretty good system of metro rail. Mumbai's metro system is under construction and will be ready soon. NCR regions (near Delhi) like Noida and Gurgaon also have extensive metro system plans in the pipeline.