People of India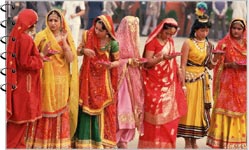 The people of India are among the warmest and the most hospitable people in the world. They take pains to make their guests feel at home. Even today, Indian people believe in their age-old traditions and make sure the same values are passed onto future generations. The rich traditional background of our country fascinates the current generation. Even though they wear the latest fashionable accessories and flaunt the best cell phones, when it comes to respecting elders and following the religious practices, they make sure that there is no chance for complaints. Read on further for some more fascinating information about Indians.
The diverse country of India is equally diverse in its racial ethnicity also. India is probably one country in the world where you will find so many races and cultures living together in perfect harmony. The six main ethnic groups of ancient India are as follows:
Dravidians - The people of South India, the Dravidians have been believed to come before the Aryans. They are accredited to have developed the city civilization of the Indus valley, whose remains have been found at ancient cities of Mohenjodaro and Harappa.
Mongoloids - The Mongoloids are found in the Northeast India in the states of Assam, Nagaland, Mizoram, Sikkim, Meghalaya, Arunachal Pradesh, Manipur, and Tripura. Some of them are also found in the Himalayan region of Ladakh. They are characterized by pale complexion, small eyes and a medium built.
Negrito - The Negritos are supposed to have been the earliest people to travel to India. They inhabited the islands of Andaman and Nicobar and their race is till continuing. Their striking feature is their broad heads like that of Africans.
Nordic Aryans - The Nordic Aryans were the last to come to India. They are widely found in the northern and central parts of India. They have been believed to have come to India around 2000 B.C.
Proto Australoids - These people came to India after the Negritos. The Australoids laid the foundation of Indian civilization and are accredited with the introduction of farming techniques. They grew rice and vegetables and made sugar from sugarcanes. These people are now found in some parts of India, Myanmar and the islands of South East Asia. Their characteristic features are medium height, low foreheads, wheatish complexion and flat noses.
Western Brachycephals - These people are distributed in the western and southwest parts of India. That includes the states of Gujarat, Maharashtra and Karnataka. The Parsis are also believed to have originated from this ethnic group. These people have broad foreheads and medium built.

Taj Mahal Tour

Rajasthan Tours

Kerala Tours

Kashmir Tours

Tamilnadu Tours

Adventure Tours India

Beach Tours India

Desert Tours India

Pilgrimage Tours India

Ayurveda Tours India

Buddhist Tours India

Temple Tours India

Sculpture Tours India

Golden Triangle Tour

India Heritage Tours

Hill Tours India

Honeymoon Tours India

Kerala Backwaters Tour

India Train Tours

Trekking Tours India

India Wildlife Tours

Karnataka Tour

Nepal Tour

Orissa Tour

Gujarat Tour

Andhra Pradesh Tour

Maharashtra Tour

Chardham Tour

Golden Chariot

Himachal Pradesh Tour

Sikkim Tour

Madhya Pradesh Tour