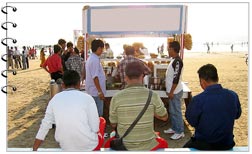 Indian street food is pretty famous and most tourists gorge on the delicious and affordable roadside food in India to get the real taste of this amazing country. The street food in India is an amalgamation of various flavors that stimulate the taste buds of tourists as well as locals. In every big metro, you will find all roads and small narrow lanes having at least one such portable food stall. The snacks are prepared right there in front of your eyes. You can also ask for extra flavors such as more spice or more tanginess. Given here is information on famous Indian street food items. Drooling already?
Chaat
The quintessential North Indian street food, chaat is an all time favorite of all people, whether locals or tourists. It is made of an assortment of crisp, salted, small pancakes sprinkled with various masala powders along with different chutneys (Indian sauces) and a dash of yogurt. For dressing, some grated ginger and some pomegranate seeds are used. Another version is the fruit chaat that is available with chopped seasonal fruits offered with a dash of spicy masalas and a hint of lime juice.
Bhel Puri
This street food is prepared in different ways in different parts of India. Though the main ingredients remain the same, here are different additions in different parts of India. Essentially, it is puffed rice with generous servings of "sev" mixed with chopped onions, tomatoes, boiled potatoes, green chilies and coriander. It is served with a dash of lime juice, rock salt, normal salt and a hint of red chilly powder.
Pani Poori a.k.a Golgappas
It takes a big mouth (literally!) to gulp down the famous pani pooris also known as golgappas in northern parts of the country. Basically pani puris are small balls made of flour. They are filled with mashed potatoes and sweet sauce, dipped in tangy water and are to be eaten whole. If you bite it into half, the ball breaks and the water flows out.
Aloo Tikki
Aloo tikki can be considered as an Indian version of the vegetable cutlet. It basically flattened balls of boiled and mashed potato mixed with flour, kneaded into soft dough. These flattened balls are shallow fried in oil on a huge pan. They are served piping hot with different chutneys.
Pav Bhaji
Pav bhaji is essentially dry buns topped with a cube of butter, combined with a mish-mash of hot cooked vegetables along with raw onions or radish. You can add more tanginess to the mish mash by adding some lime juice. It is very filling and most people skip dinner if they have it late in the evening.
Vada Pav
This street food is famous in the southern parts of India. It is usually eaten as breakfast in many parts of the south of India. It consists of vada wrapped in bread that is served along with hot concoction or different chutneys. The vada is usually made of boiled and mashed potatoes deep fried in oil. This hot vada is then wrapped up in bread and served.
Apart from these famous street food items, different varieties of omelets, pork fry, parathas (soft thin pancakes served with curry) are also available at minimal prices.