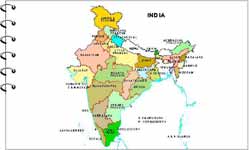 "If there is one place on the face of earth where all the dreams of living men have found a home from the very earliest days when man began the dream of existence, it is India."
- Romain Rolland, French scholar.
India, the country where you find a unique blend of cultures, castes and races with generous doses of tradition thrown in. what you get, is a pleasantly appalling, fascinating, mystifying land that almost everyone falls in love with. This, my dear friend is India. Just for your assistance, given below are certain
facts about India
that will help you analyze India at a glance. Check out India information below.
Full Name
Republic of India (also called Bharat, Hindustan among locals)
Capital City
New Delhi
Total Area
3.3 million square kilometers (approximately)
1.2 Square Miles.
Population
1,000,000,000 (2001 Census)
Coastline
7,516 kilometers (inclusive of Andaman, Nicobar and Lakshadweep islands)
North to South
3214 kilometers.
East to West
2,933 kilometers
Latitude
8°4' and 37°6' North
Longitude
68°7 ' and 97°25' East
Climate
Summers (April - October)
Winters (November - March)
Monsoons (July - September)
Form of Government
Democracy (Federal form of Government)
Number of States
28
Number of Union Territories
07
Languages
Hindi is the official language. English is widely spoken and written.
17 major languages recognized by the Constitution and 844 Dialects.
Religions
Hindu - 80%, Muslim - 14%, Christian - 2.4%, Sikh - 2%, Buddhist - 0.7% Jain - 0.5%,
Zoroastrian and others - 0.4%
Currency
Indian Rupee
Time Zone
5.5 Hours (5 hours, 30 minutes) ahead of Greenwich Mean Time (GMT +5.5).
Electricity
230-240V 50HzHz
Country Dialing Code
91
National Flag
Horizontal tricolor with 3 equal proportioned bands of three colors. Deep saffron on the top, White in center and dark Green at the bottom. The navy Blue wheel in the center of the white band has been taken from the traditional "Charkha" and has 24 spokes on it.
National Anthem
Jana Gana Mana written by Rabindranath Tagore.
National Emblem
Modeled on the Lion Capital of Sarnath.
National Song
Vande Mataram