Tips for Women Travelers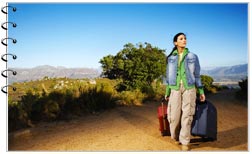 India is a very warm and hospitable country. Though modern in most aspects, India still remains traditional. The western influence is there in India, but it is not very appealing to the Indian sensibilities. Though women are much respected in India, go through these safety tips for single woman, as it is not always safe for women to travel alone. These travel tips for women in India will be much useful if you are traveling alone or even with a group. Not to offend the Indian sensibilities, we bring you certain tips for women travelers.
Don't wear clothes that are revealing or provocative. When in India, it is best to cover up yourself so as not to attract unwanted attention.
Women can roam around in jeans and tee shirts, long cotton pants and cotton shirts. Skirts, if long are much better than the short ones.
It is not quite advisable to show public displays of affection. It not only offends Indians, but also attracts lewd remarks and gestures. Refrain from any such physical activity that is intimate.
It is alright to shake hands with most people, though keep a distance from males. Some people might just take it in the wrong sense and not like it.
Saying "Hi" or "Hello" is acceptable in cities, though with elders it is best to greet with a "Namaste".
While roaming in beaches, it is best to be clothed. India does not allow people to be in their swim-wear even in beaches. Wear a cotton pant and a tee shirt.
While in a pub, discotheque or a bar, it is advisable to take a friend along with you. Do not venture there alone as it may not be very safe.
Indians usually don't allow women to smoke in public. If you have to smoke, do it in your hotel room. However, some major urban cities seem to have accepted women smoking in public.
If you happen to come across a street party or a festive procession, it is best not to take part. Most Indian women also stay away from such crowds in which there are many aggressive males. You can watch from a distance and move on when it has passed you.

Taj Mahal Tour

Rajasthan Tours

Kerala Tours

Kashmir Tours

Tamilnadu Tours

Adventure Tours India

Beach Tours India

Desert Tours India

Pilgrimage Tours India

Ayurveda Tours India

Buddhist Tours India

Temple Tours India

Sculpture Tours India

Golden Triangle Tour

India Heritage Tours

Hill Tours India

Honeymoon Tours India

Kerala Backwaters Tour

India Train Tours

Trekking Tours India

India Wildlife Tours

Karnataka Tour

Nepal Tour

Orissa Tour

Gujarat Tour

Andhra Pradesh Tour

Maharashtra Tour

Chardham Tour

Golden Chariot

Himachal Pradesh Tour

Sikkim Tour

Madhya Pradesh Tour