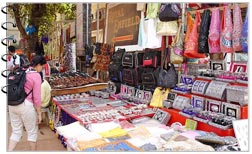 The vast diversity is, in itself, an exotic representation of India. A melting pot of cultures, religions, traditions, languages and geography make this country a unique destination to step onto once in a lifetime. Right from the snow-capped Himalayas in the north to the beautiful backwaters in the south, colorful camel rides and colossal forts in the west to the aromatic teas and extinct wildlife in the west, India offers a wide spectrum of destinations and incidents to see and experience. To add to the vibrancy of the nation is the shopping extravaganza presented by every nook-n-corner of India. Be it the traditional hand-woven carpets or the trendy footwear, the age-old royal jewelry or the latest fashionable accessories, fresh handpicked spices or hand-crafted handicrafts, exquisite paintings or attractive pottery, India is a paradise for shopaholics. In short, India has something and everything to suit all kinds of budget from lavish to low-priced. Given here is a list of the most commonly produced and sold items in India. Also, check out the quality places to pick up these pieces.
Jewelry
The metals used, the intricate designs, and the fine craftsmanship make the Indian popular across the world. Not just the traditional gold work, artisans craft jewelry in other metals as well, like silver, platinum, while gold and titanium. To add to the exclusivity of the jewelry are the embedded precious and semi-precious stones. Just like the designs, the prices of jewelry, too, are varied. Those desiring to own a piece of diamond jewelry can head towards Mumbai, while those willing to buy silver folk art jewelry and gemstones can travel to Jaipur. Pearl jewelry can best be bought at Hyderabad while Jodhpur is a hub of traditional lac work. Though highly inexpensive, but terracotta jewelry from Bengal and traditionally styled Tibetan silver jewelry from McLeod Ganj and Darjeeling are worth purchasing.
Handicrafts
What tulips are to Switzerland, handicrafts are to India. The range of handicrafts in India is as wide as the people involved in crafting them. Every different region is known for its specialty. Whether it is terracotta wares of Calcutta, folk art paintings of Bihar, sandalwood carvings of Mysore, blue gazed pottery and papier-mâché of Jaipur, or the marble of Agra, India buzzes with a world of unique, impressive and eye-catching handicrafts, each narrating a different tale. The varieties offered include ceramic and marble sculptures, paintings, jewelry, wall hangings, Manipur black pottery, metal art figures, cushion covers, bags, toys, home décor, finely woven clothing and much more. The most popular places where one can shop for handicrafts are Dili Haat in Delhi and Kala Madhyam in Bangalore for inexpensive deals. Anokhi in Jaipur and MESH in Delhi and Hyderabad produce high quality items at their design studios. Those looking for distinct handicrafts, dotted with a touch of luxury, can step into the Khazana boutiques of Taj Hotel Group in Delhi, Mumbai, Goa, Hyderabad, Chennai and Bangalore.
Carpets
Nicknamed as the carpet capital of India, Kashmir offers a wide variety of finest carpets produced at home. History of the carpets takes one back to the times when Persians, the original carpet makers, brought down the skills and techniques from Persia. The royal designs, the intricate crafting, and the qualify fibers deem the Kashmiri carpets a prized possession. While in Kashmir, these beautiful hand-knitted pieces can be bought from several shops in the markets of Srinagar. However, for those who cannot travel far to Kashmir, a good collection of carpets are sold in the major cities, like Delhi, Mumbai, Jaipur, Darjeeling, etc. Since Kashmiri carpets do not come as a cheap deal, traders can end up demanding for a hefty amount. Hence, one should ensure to bargain and pick up only carpets made of synthetic fibers.
Textiles
Similar to handicrafts, every region is known for producing a distinctive type of textile. Ranging from phulkari embroidery work of Punjab to silk fabrics of Tamil Nadu, chikan work of Lucknow to mirror work and colorful tie and dye work of Rajasthan and Gujarat, there's a whole lot offered by the textile industry of India. Not just on garments, these attractive and attention-grabbing works can be found on saris, stoles, jackets, caps, cushion covers, bedspreads, bags, wall hangings and cloth. The numerous emporiums of Delhi, Jaipur and Mumbai offer the largest collection of textiles from all across India. The World Trade Centre at Cuff Parade in Mumbai has a good number of stores dealing in textiles. In Delhi, one can check out the emporiums of Gujarat and Rajasthan at the State Emporia Complex. Rajasthan Handloom House in Jaipur houses a wide collection of attractive and colorful textiles. Also, contemporary textiles comprising of apparels, bags and bedspreads can be explored at Anokhi in Jaipur.
Musical Instruments
Of all the musical instruments, India is most popular for the tabla (drums) and sitar (guitar). For those willing to buy these, here's a word of caution - beware of the high prices. The best places to visit for buying these are Delhi, Calcutta and Varanasi. A large number of emporiums can be found on Netaji Subhash Marg in New Delhi, while in Varanasi, the best stop is Triveni Music Centre. In Calcutta, musical instruments can be bought at Rabindra Sadan cultural complex. However, one will have to splurge out at least Rs 5000 for a sitar and minimum Rs 1500 for a tabla.
Spices
Spices are cultivated in plenty in the southern states of India. Cinnamon, cardamom, ginger, pepper, clove, turmeric, vanilla, nutmeg, and coriander are a few of the host of spices grown here. While visiting India, picking spices in bulk is anytime a great deal. The high quality and pure aroma cannot be found anywhere else across the world.
Tea/Coffee
Tea and coffee are the most popular beverages consumed by the Indian population. Freshly hand-picked leaves from the garden and infused to make a cup of fragrant and tasty tea cannot be comparable anything more soothing. Similar is the case with the hard and pungent coffee beans. Tea is a must buy when you are traveling to the north-eastern states, particularly Assam and Darjeeling. As for coffee, the green hills of Karnataka, Kerala and Tamil Nadu offer the best and finest quality.
Apart from these traditional markets, one can also buy and
send gifts to India
through online e-commerce/shopping portals. In addition to free delivery in India, these shopping portals also ship many popular items like handicrafts, textiles etc outside India so foreigners and NRIs can choose the items of their choice and order online.