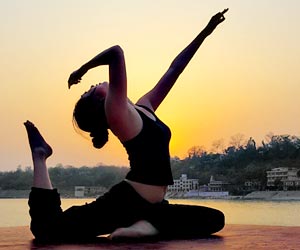 In Sanskrit, the word 'Yoga' means union. Thus Yoga implies the union of mind, body and spirit. The science of practicing Yoga originated during ancient times in India. Yoga since, has been in practice all over India. The spread of this ancient Indian science can greatly be attributed to numerous Sadhus (Hindu Saints) who regularly practiced and propagated it.
The word Yoga today, is generally used to refer to various 'Asanas' or positions. Asana, connected more with physical activity, is just one of the eight limbs of Yoga, most of which are connected with mental and spiritual wellbeing.
The northern Indian state of Uttarakhand has deep association with Yoga, meditation and ayurveda. Known as the abode of Gods and Goddesses, Uttarakhand is home to some of the best schools of Yoga.
The spiritual air that envelops the entire Himalayan state of Uttarakhand makes the process of learning and practicing Yoga, truly enchanting. The banks of holy rivers like Ganga and Yamuna, make ideal locations for the practice of Yoga.
Rishikesh, a town in Dehradun district of Uttarakhand, is famous as the world capital of Yoga. Rishikesh is a temple town that is situated on the banks of holy river Ganga. It is here that one finds numerous schools, ashrams and other institutions offering courses of all levels, in Yoga.
Practice of Yoga involves multidimensional benefits. Yoga has got immense curative and preventive powers which can only be realized, once it is practiced. Claims of curing dreaded diseases like diabetes, high blood pressure, asthma, and even cancer are not without bases. There have been cases where people have actually walked free of such serious diseases by merely controlling their breathing (Pranayam Yoga), as prescribed under Yoga.
Some of the Schools and institutions that are involved the practice and propagation of Yoga in Uttarakhand are as follows:-
Divya Yog Mandir, Near Haridwar (Swami Ramdevji Maharaj conducts courses in Yoga)
Parmarth Niketan, Rishikesh
Dev Sanskriti University, Haridwar
Yoga Niketan Trust, Rishikesh
Patanjali Yogapeeth, haridwar
Yoga By Baba Ramdev
Yoga, though in practice since time immemorial, has seen a kind of revolution in the recent past. Yoga today is being practiced not only in India but world over. Such popularity of the art and science of Yoga can greatly be credited to Swami Ramdevji Maharaj. It is through Baba Ramdev's sincere efforts that Yoga today has become appealing to the masses and is being fondly practiced.
Divya Yog Mandir, where Baba Ramdev practices and teaches Yoga daily to thousands of people, is located near the holy city of Haridwar in Uttarakhand state.