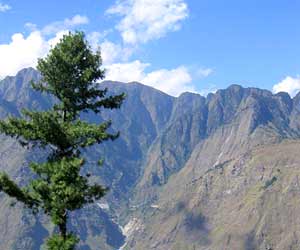 Chamoli is a beautiful place in the state of Uttarakhand. The average elevation here ranges from 800m to 8,000m, giving its climate and topography a hitherto unknown diversity. The winter season sets is from about mid November and lasts till March. Since majority of the area is located on the south inclines of the Outer Himalayas, most monsoon currents cross the threshold throughout the valley. The monsoon rainfall though is heaviest in the months of June to September.
During monsoons, rains contribute to the 70-80% of the yearly precipitation records. However, this rain is not effective as it is not uniform for all areas and hence vegetation growth is not identical everywhere. The highest temperature in Chamoli is never more than 30°C, even in summers. The lowest though will reach the freezing point, which is 0°C in winters. The temperature remains pleasant most of the time and one can visit Chamoli all through the year.
The percentage of relative humidity is high, especially throughout the monsoons. It usually exceeds the 73% on the regular rainy days. The ideal clothes to last you for the ever-changing climatic conditions are thick cottons and light woolens in summers and Heavy woolens in winters.