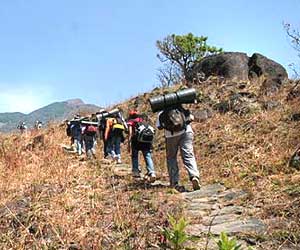 A strikingly beautiful hamlet in the located in the midst of the serene and tranquil hills of Uttarakhand, Kanatal offers calm and peaceful respite from the maddening high decibel sounds of city life. A sojourn in this scenic hill station in the vicinity of Himalayas is the ideal vacation one can ask for. Loaded with immense natural beauty, Kanatal offers the visitors a range of things to do and see in the wondrous hill station, apart from the usual sight seeing. Below listed are a number of fun activities to do in Kanatal.
Fun Activities to Do in Kanatal
Trekking & Hiking
Outdoor activities like trekking and hiking are an exciting option for the more adventurous souls. The mountainous terrain of Kanatal offers interesting options to trek and hike. However, if trekking is the overwhelming concern, it should be ensured that you go to Kanatal in the summer season. Trekking can be combined with camping in the area to complete the amazing experience and make it more fun. Make sure that you carry your trekking shoes and hiking equipment along.
Ayurveda & Spa
Kanatal Resorts, a concept based spa resort, offers an enticing opportunity to pamper yourself through spas and a full body Ayurvedic treatment. One can specifically go for the Ayurvedic treatment as the nature is at its unadulterated best in Kanatal. The traditional herbal cures to counter mental and body stress through a variety of spa treatments is something to check out for.
Nature Walks
Kanatal is the perfect choice for nature lovers who constantly seek the company of nature. One can find some natural hide-outs to relax and unwind. Nature walks are just the right thing to unwind and enjoy the phenomenal beauty and charm of this small hill station. Tourists can go for nature walks in the evening. Take care to return before it's too dark. Early morning is also a great time to explore the flora and fauna of the area when everything is as fresh as morning dew. Ensure that you make minimum noise and do not disturb the nature. Take your binoculars along.