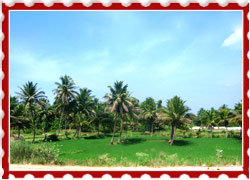 Min Temperature:
20
0
C (Summer), 15
0
C (Winter)
Max Temperature:
37
0
C (Summer), 30
0
C (Winter)
Best Time to Visit:
September to March
Located just a few km away from the city of Mysore, Srirangapatna is an ideal destination to get a taste of history in a peaceful and serene location, away from the hustle-bustle of city life. A former capital of the might kings of the past, Srirangapatnam extends tourists a beautiful place replete with favorable weather. Talking about the weather, Srirangapatnam experiences distinct climatic conditions. Summers start from the month of april and lasts till June. This period of the year is usually warm with the temperature ranging from 20
0
C to 37
0
C.
Monsoon in Srirangapatnam steps in from the month of July. However, it is argued that this small town receives less rainfall. After the moist season, it's the turn of winters. Staring from the month of November, temperature drops down considerably. While the maximum temperature ranges around the 30 degree mark, mercury drops down to about 15
0
C. Ideally, this is the best time to visit this beautiful township. September to March marks as good months for visiting Srirangapatanam.