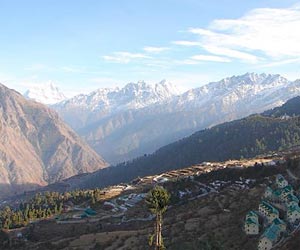 Hills, mountains, temples and valleys of Chamoli always make for a peaceful, tranquil and spiritual holiday- memorable for a lifetime. Below is a list of all places to see in Chamoli that one must visit to get the real taste of the Garhwal Mountains.
Nanda Devi National Park
Nanda Devi National Park along with the nearby Valley of Flowers was made a UNESCO World Heritage Site in 1988. Nanda Devi National Park is a forest reserve cum national park (established 1982) in the area surrounding the Nanda Devi peak and covers an area of 630.33 sq kms.
Auli
Also known as Auli Bugyal, Auli is a recently developed Ski resort to the Chamoli territory. Auli can be reached by road (by hiring a private taxi) or taking a ropeway from Joshimath. The months of January to March see the place covered in thick blankets of snow. This snow blanketed destination then becomes the perfect place for a Skiing holiday. The Garhwal Mandal Vikas Nigam (GMVN) has tied-up with Club Mahindra to promote Ski training courses in Auli.
Gopeshwar
Gopeshwar, located at the elevation of 1, 308 m in Uttarakhand, is the administrative headquarters of the Chamoli District, famous especially for its pleasant weather and temples. Gopeshwar is surrounded by major Hindu Pilgrimage such as the Tungnath, Rudranath and Badrinath on its sides.
Hemkund Sahib
Hemkund Sahib is one of the holiest Gurudwaras in India. Hemkund Sahib is located at a very high altitude amidst snow clad gigantic Himalayan crests in Uttarakhand. Hemkund Sahib gets its name from the nearby Hemkund Lake.
Vasuki Tal
Located at an altitude of 14,200 ft, Vasuki Tal can be reached by an eight kms trek through the Vyas Gufa, Ganesh Gufa, Bhimpul and Vasudhara Falls. All these places are important in Hindu mythology and form a part of the Badrinath pilgrimage.
Joshimath
Joshimath is an ancient rest house cum praying hall established by Adi Shankaracharya. It is located at an elevation of about 6, 150 ft and 14 kms from Helang, a town on the way to Badrinath.
Tapt Kund and Surya Kund
This place is the meeting point of two natural hot water Sulphur springs. Both have an innate temperature of 55°C . though they are supposed to purify the soul and body before reaching the temple, this train of thought probably originated in the various medicinal properties hot Sulphur springs have with them.