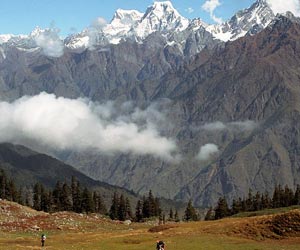 Kuari pass, cradled in the heart of snow capped Garhwal Himalayas, is located in Chamoli district within the hill state of Uttarakhand in India. Situated at an altitude of 3,565 meters above the sea level, this pass promises to enthrall visitors by its sheer magnificence.
Kuari pass is popularly known as Curzon's Trail. This is because, in 1905, the then Viceroy of India, Lord Curzon had undertaken a trek to this beautiful pass. Curzon had reached Kuari pass from Ghat via Ramni. Even he was captivated by Kuari pass's unmatched charm.
Kuari pass is probably the best window to view higher Himalayan peaks. Facing north, the vision sweeps from the gorges of Trishul in the east to the peaks of Kedarnath in the west.
As one approaches the pass, glory of tall and majestic Himalayan peaks can be clearly seen, forming a stunning arc. Views of famous peaks like Nanda Devi, Kamet, Dronagiri and Hathi-Ghodi Parvat from here are truly breathtaking.
Trek To Kuari Pass
The trek to fascinating Kuari pass was popularized after Lord Curzon's expedition in 1905. The trek begins from a place called Ghat. Ghat, located in the pristine valley of Mandakhini, can be reached after a 7-8 hours drive from Rishikesh. From Ghat, one has to trek for about 6-7 hours to reach Ramni from where a further trek of 5-6 hours will lead to Sem Kharak. From here, one descends to a suspension bridge over Birthi Ganga and climbs again to a beautiful village of Pana. This takes another 6 hours or so. Another 7 hours of strenuous trek through virgin forests will lead to a picturesque meadow country of Dhakwani. This is a place situated at the foot of Curzon's Trail. The trek from here to Kuari pass, about 2-3 hours away, is very steep and thus tiring. However, all fatigue and tiredness is forgotten once the charming Kuari pass is finally reached.
How To Reach
By road, Ghat, which is the base camp for Kuari pass trek, can be easily reached from Rishikesh. It is about 7-8 hours drive. Regular bus and taxi services to Ghat from Rishikesh are available. Nearest railhead is Rishikesh and nearest airport is jolly Grant of Dehradun.