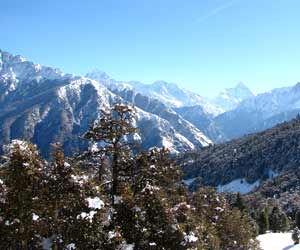 The word Joshimath is derived out of 'Jyotirmath' (the place of Jyotirlinga of Shiva). Joshimath is famous for being home to one of the four Peeths i.e. center for sanyasis. This Peeth was founded by Shankaracharya, the famous Hindu Guru.
Joshimath is considered to be one of the most sacred placed by Hindus since it is believed that Lord Badrinath (Lord Vishnu) resides here during winters. Surrounded by tall and majestic snow covered Himalayas, Joshimath is an important destination en route celebrated shine of Badrinath which is about 42 Km from here.
Narasimha Temple In Joshimath
The famous temple of Lord Narasimha is about 1200 years old and is dedicated to Lord Vishnu. The Presiding deity of the temple, Lord Narasimha, half-man and half-lion, is believed to be the fourth avatar (incarnation) of Lord Vishnu.
Like Badrinath, the Lord Narasimha too is seen positioned in 'padmasana'. Interestingly, the left wrist of the deity is getting thinner day by day. It is believed that when the deity hand will fall off, the road to Badrinath will get blocked as a result of a land slide.
Vasudeva Temple
This Temple of Lord Vasudeva is situated some 30 yards away from the temple of Lord Narasimha. The presiding deity here is Vasudeva who is identified with Lord Vishnu. It is one of the most famous Vishnu temples of north India. It was considered very sacred by the 'Alavars', the Tamil Vaishnavite Saints. The deity's idol here is carved out of a piece of black stone, measuring 6 feet in height.
Trekking Around Joshimath
Joshimath is the base for the trekking expedition to the famous Valley of Flowers and Hemkund. The season here, for trekkers is short-lived: mid-July to August end. Following are the two routes that can be taken:-
1. Joshimath - Govindghat - Ghangaria - Valley of Flowers
The trek begins at Govindghat, which is about 18 Km from Joshimath. Ghangaria is the next stop which is 12.5 Km away. Valley of flowers is a 3.5 km trek from here.
2. Joshimath - Govindghat - Ghangaria - Hemkund
Hemkund which is a famous center of Sikh pilgrimage can be reached after a steep trek of 5.5 Km from Ghangaria. Here, there is a beautiful lake and a Gurudwara by its banks.
How To Reach
By road, it is well connected with important destination of the region like Dehradun, Haridwar, Rishikesh, Nainital and Almora. Nearest railhead is at Rishikesh and nearest airport is Jolly Grant (221 Km) of Dehradun.