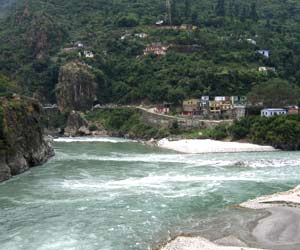 Karnaprayag is a municipal board in Chamoli district of Uttarakhand state in India. It is also a sub-divisional headquarter of Chamoli district. Situated at an average elevation of 1451 meters above the sea level, Karnaprayag is endowed with abundant natural beauty, enough to leave anyone spellbound.
As the name suggests, Karnaprayag is one of the five prayagas or confluences. It is here that river Pindari that originates from the icy Pindari Glacier, meets river Alaknanda. The other four prayagas are Vishnuprayag, Nandprayag, Rudraprayag and Devprayag.
Karnaprayag's name has also got a mythological connection. It is named after Karna, the legendary Mahabharata character, known for his bravery and generosity. It is believed that Karnaprayag is the place where Karna meditated and worshipped Suryadev or the Sun God. Karna, it is believed, meditated here for many years in order to acquire the impregnable shield, to enable him to be a formidable warrior in the battlefield. There is an ancient temple at Karnaprayag, dedicated to Uma Devi.
Karnaprayag has also seen the great Swami Vivekananda meditate in its pristine surrounds along with his Guru bhai Guru Turianand ji and Akharananda ji, for eighteen days.
Excursions from Karnaprayag include a visit to the beautiful village of Nauti. Nauti is where the Nand Raj Jat Yatra is organized every 12 years. This yatra is one of Uttarakhand's most ancient and unique celebrations dedicated to patron Goddess Nanda Devi.
How To Reach
By road, Karnaprayag is well connected with major destinations of the region like, Dehradun, Rishikesh, Haridwar, Nainital, Almora , Corbett National Park and so on. It is about 550 km drive from the Indian capital city of Delhi. Nearest railhead is Rishikesh (200) and nearest airport is Jolly Grant (228 Km) of Dehradun.