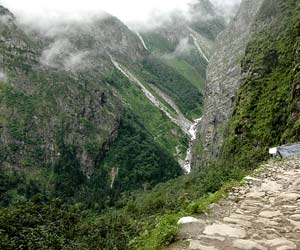 Hemkund Sahib, at an elevation of 4300 meters above the sea level, is the highest gurudwara in the world. It is located within Chamoli district of Uttarakhand state in India.
According to Bachitra Naatak, an autobiographical account of Sikh Guru Gobind Singh, it was at Hemkund surrounded by seven snow capped Himalayan peaks that he had meditated in his previous birth.
While many historian wrote about Hemkund's association with Sikhism, it was only in 1934 that a granthi Sant Sohan Singh visited the spot and returned, determined to set up a gurudwara there. Along with Hawaldar Baba Modan Singh, he constructed a 10 sq. ft. room at Hemkund and installed Guru Granth Sahib there.
During 1960s, a seven-member trust called the Gurudwara Sri Hemkund Sahib Management Trust was established by the Hawaldar which took over the shrine's management. The trust also established gurudwaras along the way, in Haridwar, Rishikesh, Srinagar, Joshimath, Govindghat and Ghangaria.
Traditionally, Hemkund has been a holy place for the Hindus and is known as Lakshman Lokpal. A small Lakshman Temple still exists here. The beautiful elusive flowers - Brahma Kamal - are seen growing around the crystal clear lake, adding to the beauty of this mystical place.
Trek To Hemkund
Trek to Hemkund begins at Govindghat, which also acts as a base camp for the trek. From Govindghat, a strenuous trek of 19 Km leads to Hemkund.
How To Reach
Govindghat, the last road head en route Hemkund sahib, is well connected by motorable roads with major destinations of the region. From Delhi, on has to take NH58 to Govindghat via Devprayag, Srinagar, Rudraprayag, Karnaprayag, Nandprayag, Chamoli and Joshimath. From Govindghat, Hemkund is a 19 Km strenuous trek. The nearest railhead is Rishikesh (273 Km) and nearest airport is Jolly Grant of Dehradun.