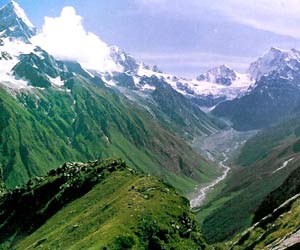 Roopkund is a beautiful clear water Himalayan lake, located in the interiors of Chamoli district of Uttarakhand state India. It is a picturesque lake surrounded by snow covered majestic Himalayan peaks and glaciers.
Roopkund is also known as the Mystery or Skeleton Lake. This is because of a large number of human skeletons that are lying scattered around the lake. There is an interesting story behind the lake.
In 1942, a park ranger stumble upon the skeletons here and thus the name Mystery Lake or Skeleton Lake came to be associated with Roopkund. There are about six hundred human skeletons scattered around that makes this place both beautiful and thrillingly mysterious.
When the skeletons were first found, it was believed that an epidemic, landslide or blizzard must have been the cause of so many deaths. Carbon dating conducted on samples in 1960s indicated that these may be the skeletons of people belonging to a period between 12-15th centuries.
However, according to latest studies conducted by a group of Indian and European scientist, the skeletons belong to 9th century people. The group conducting studies also collected preserved bodies, damaged skulls etc. from the surrounding areas of the lake.
According to the reports of studies conducted, the people died not because of epidemic but a possible hailstorm. The sizes of hails, it is believed, must have been as large a cricket balls. With no shelter in open Himalayas, all the people must have perished.
Apart from the mystery surrounding the lake, Roopkund is also famous amongst the masses of the region due to annual Raj Jat yatra. Roopkund located at the base of major Himalayan peaks - Trishul (7, 120 meters) and Nandghungti (6, 310 meters) - promises to be an interesting destination not only amongst the hard core trekkers but also other tourists.
Trek To Roopkund
Though there are different trekking routes that can be chosen from, generally trekkers prefer to start from Lohajung. Lohajung is the last road head after which one has to trek to reach Roopkund. From Lohajung one has to trek to a place called Ran Ki Dhar where camping for the night can be done. The next camping stop is at Bedni Bugyal which is about 12-13 Km from Wan. From here Bhaguwabasa is about 10-11 Km trek from where another few hours trek will lead to Roopkund.
How To Reach
By road, Lohajung which is the last road head en route Roopkund is about 155 Km from Almora, 217 Km from Nainital and 235 Km from Kathgodam.