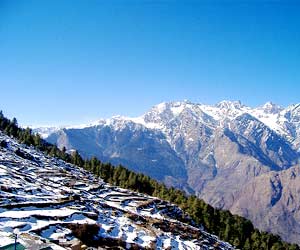 Chamoli, believed to be Lord Shiva's favorite place, is a northern district of Uttarakhand state in India. With Gopeshwar as its headquarter, Chamoli district is surrounded by Uttarkashi, Rudraprayag, Pauri, Almora, Bageshwar districts on the western, southern and eastern sides. Tibet flanks Chamoli on its north.
Excursions In Chamoli
Badrinath
Located at an altitude of 3,133 meters ASL, Badrinath is one of the most celebrated Hindu pilgrimage destinations. It is one of the four sacred Dhams, and attracts a huge number of devotees every year. Badrinath is about 42 Km from Joshimath and 106 Km from Gopeshwar.
Joshimath
Joshimath holds an important place in the history of Hindu revivalism. It is this place where Adi Guru Shankaracharya attained enlightenment and established a Math (Hemitage center).
Auli
Auli is a skiing paradise which is about 72 Km from Chamoli. GMVN provides skiing equipment and other facilities for the skiing enthusiasts here. Otherwise too, this place with its picturesques snow covered slopes is a treat to the soul.
Hemkund Sahib
Hemkund Sahib, located at an altitude of 5, 329 meters above the sea level is considered to be the world's highest shrine. It is the place where tenth Sikh Guru, Guru Gobind Singh had meditated.
Roopkund
Located at an altitude of 5, 029 meters above the sea level, Roopkund is also known as Mystery Lake. Skeletons of humans and equine can be found scattered here. Roopkund is a popular trekking destination.
Valley of Flowers
The picturesque valley of flowers, a National Park, with its colorful and exotic vegetation, is sure to leave anyone spellbound. This breathtaking world of flowers can be approached from a place called Govindghat which is about 82 Km from Gopeshwar (via Joshimath).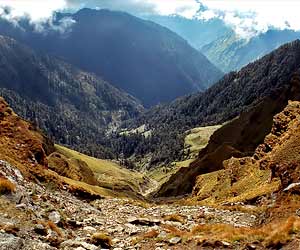 Kuari Pass
Endowed with exotic flora and fauna, this place is also known as Curzon's trail. On the other side of Kuari Pass lies the famous Nanda Devi Sanctuary. This pass can be approached either from Tapovan (via Auli, Gorson, Chitrakantha) or from Ghat in south (Via Ramni).
Kalpeshwar
Kalpeshwar, 23 Km from Joshimath, is situated in the picturesques forests of Urgam Valley. The Kalpeshwar temple is dedicated to Lord Shiva where the Lord's head (and hair) is particularly worshipped.
Adi Badri Dham
Located at a distance of 16 Km from Karnaprayag, Adi Badri Dham is one of the Panch Badris. There are a number of temples dedicated to Lord Vishnu and Lord Narayana here. Besides, one can also visit a nearby lake – Benital - and ruins of old forts belonging to Garhwali Rajas.
Rudranath
Rudranath is an 18 Km trek from the Village of Sagar which is about 5 Km from district headquarter of Gopeshwar. Lord Shiva's face is worshipped here.
Anusuya Devi & Atri Muni Ashram
Anusuya Devi Temple is located at a distance of 19 Km from Gopeshwar and 29 Km from Chamoli. It is not entirely approachable by motorable road. One has to first reach Mandal (13 Km from Gopeshwar) and then trek for 6 Km to reach the temple of Anusiya Devi. The temple is situated at an altitude of 2000 meters above the sea level. In the month of December, on the occasion of Duttatreya Jayanti, a large fair is held which is attended by thousands of devotees every year. Throughout the night they worship the Goddess with lighted lamps in their hands.
The Ashram of Atri Muni, husband of Anusuya Devi, is located at a distance of 2 Km from the temple. The Ashram, in the form of a cave, delights the visitors, with the cataracts of Amritkund and Arnit Ganga providing a spectacular sight. This is said to be the only place where the devotees circumambulate around the river as a mark of reverence.
The Scared Prayags
There are five Prayags in Garhwal called Panch Prayags. Out of these, three - Karnaoravas, Nandoravae and Vishnuprayag - are located in the district of Chamoli. These Prayags are considered very sacred and are deeply revered by devotees.