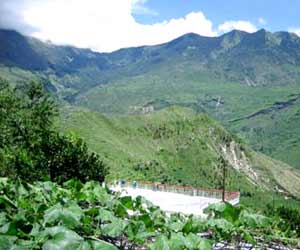 Gopeshwar is a beautiful town situated in the cradle of Himalayan nature at an elevation of 1, 308 meters above sea level. Gopeshwar is located in the district of Chamoli in the hill state of Uttarakhand and is also the administrative headquarter of the district.
Gopeshwar with its salubrious climate, is famous for many reasons. Firstly, it forms the gateway to higher reaches of the district where most revered sacred shrines like Badrinath, Tungnath, Anusuya Devi, Rudranath and so on, are located. Secondly, Gopeshwar itself has a number of temples and sacred places, most famous being, Gopinath Temple of Lord Shiva. Gopeshwar not only interests the pilgrims but also proves to be a fascinating destination for all kinds of tourists. With the breathtaking views of magnificient snow capped Himalayas that it offers, Gopeshwar is sure to captivate any visitor with its mystic charm.
Another attraction Gopeshwar holds is its strategic location that proves to be a promising destination for the trekking enthusiast. Various trekking routes beginning from or near to Gopeshwar make it a trekking paradise.
Gopinath Temple
The famous Gopinath Temple in Gopeshwar is dedicated to Lord Shiva. There is an interesting story behind this temple. It tells us that in ancient times, this region was ruled by a King named Sagar (on whose name there is a nearby village) whose cow used to give milk to a Shiv Linga everyday. When the King one day saw this happening, he decided to construct a temple where the Shiv Linga was. And thus, Gopinath Temple came into being.
Interesting Places Around Gopeshwar
Tungnath
Anusuya Devi
Rudranath
Badrinath
Kedarnath
How To Reach
By road, it is well connected to major destinations of the region like, Dehradun, Haridwar, Rishikesh and so on. Nearest airport is Jolly Grant (227 km) of Dehradun and nearest railhead is at Rishikesh (210 km).