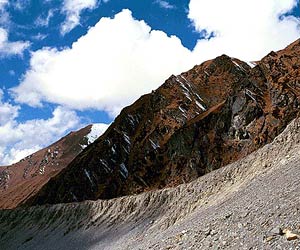 Dokriani glacier is also called Dokhriani Bamak. Locally, Bamak means glacier. This medium sized glacier is located in the district of Uttarkashi within the hill state of Uttarakhand in India.
Dokriani Bamak is an important glacier of Garhwal Himalayas that feeds the Bhagirathi river system. The glacier is formed by two cirques, originating at the northern slope of Draupadi-ka-Danda and Jaonli peak, 5600m and 6000m respectively.
Dohriani Bamak extends about 5 km and terminates at an altitude of 3, 800 meters above the sea level. The melt waters of this glacier form a stream called Dingad. This stream after combining with other met water streams in the area finally merges into river Bhagirathi at Bukki Village.
About 2 Km below the snout of Dokriani glacier, there are numerous well formed meadows and proglacial lakes which give us an insight into the history and behavior of this magnificent frozen mass. These meadows also make good camping sites for the trekkers.
Trek To Dokriani Glacier (24 Km)
Trek to Dokhriani glacier begins from the bus terminal located on Uttarkashi - Gangotri road. After a 2 Km trek, you will reach Bukki Village. From here, another 5 km trek will lead you to Tela Camp (2, 500 m). Further trekking for about 12 Km will lead you to some Gujjar Huts (3, 500 m). Also located nearby, is a base camp of Wadia Institute of Geology, Dehradun. This place is located just 5 km below the glacier.
Route Distance
Bus Terminal to Bukki Village: 2 Km
Bukki to Tela Camp: 5 km
Tela Camp to Gujjar Huts: 12 Km
Gujjar Huts to Dokhriani glacier: 5 Km
How To Reach
By road, one can take the Uttarkashi - Gangotri road on which, at a distance of 32 Km, there is a bus terminal located near the banks of river Bhagirathi. From here a trek of about 2 Km will lead to Bukki Village. Bukki to Dokhriani glacier is a 22 km trek through the high altitude Himalayan vegetation that includes rhododendron, deodar, oak, and pine besides others.