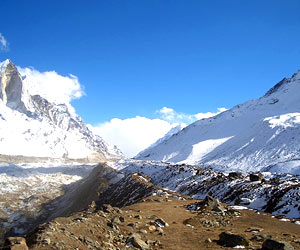 Gangotri glacier is located in the district of Uttarkashi in the hill state of Uttarakhand. It is one of the most important glaciers in Garhwal region as it is responsible for feeding the head stream of the holy river Ganga.
Gangotri glacier originates at the northern slope of Chaukhamba range. It extends to about 28 Km before terminating at Gaumukh which is 4, 000 meters above the sea level. It is here at Gaumukh that the head stream of Ganga begins to flow.
Gangotri glacier is not a single valley glacier. A number of other glaciers combine with it to for a huge mass of ice. Some of the important peaks that surround the Gangotri glacier are Bhrigupanth (6, 772m), Kirti stambh (6, 285), Sumeru Parvat (6, 380), Ratavana Bamak, Chaturangi Bamak and Swachand Bamak. The glacier follows a gentle slope. Only at few places in the upper reaches, there are some ice walls and crevices.
Trek To Gangotri Glacier (17 Km)
Reaching Gangotri glacier is not very difficult. The glacier is approachable from the holy place of Gangotri from where it is a 17 Km trek to Gaumukh, the origin of the river Ganga. The beautiful trek to Gaumukh alongside the right bank of Bhagirathi is sure to prove an unforgettable experience.
How to Reach:
The Gangotri glacier can be approached from Gangotri (17 Km), which is well connected with major destinations of the region like Uttarkashi (99 Km), Tehri (173 Km) and Rishikesh (258 Km). Nearest railhead is Rishikesh and nearest airport is Jolly Grant of Dehradun.