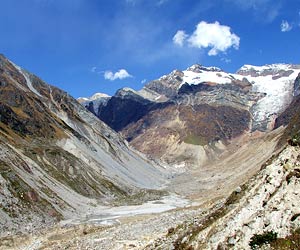 Khatling glacier is located in the district of Tehri in the hill state of Uttarakhand. Khatling is an important glacier of Garhwal Himalayas which is the source of river Bhilangna. The icy glacier of Khatling is surrounded by magnificent snow capped Himalayan peaks such as Jogin group (6466m), Sphetic Pristwar (6905m), Barte Kauter (6579m) Kirti Stambh (6902m) and Meru.
Trek to Khatling Glacier (45 Km)
The trek to Khatling glacier starts from a place called Ghuttu. Ghuttu is easily approachable by road from places like Dehradun, Rishikesh, Mussourie and Tehri. The trek, which is about 45 km long, passes through small villages and hamlets of Garhwal, and thick Kharsao forests. Occasional encounters with wide grassy meadows are sure to leave anyone spellbound.
Upon entering the picturesque Bhilangna valley, one can easily find a number of spots suited for camping. It should be kept in mind that tents and other camping essentials are required to be arranged well in advance from Rishikesh, Tehri or Dehradun.
How To Reach
By road, the base camp of Ghuttu is well connected by motorable road with important destinations of the region like Tehri (64 Km) and Rishikesh (147 Km). From Ghuttu one has to first trek to Khatling which is about 45 Km away via Reeh, Gangi, Kalyani and Bhelbagi. Nearest railhead is Rishikesh and nearest airport is Jolly Grant of Dehradun.