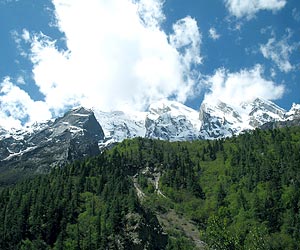 Doonagiri glacier is located in the district of Almora within the hill state of Uttarakhand in India. Doonagiri is an important glacier of the Dhauli Ganga system of glaciers.
Doonagiri glacier is 5.5km long, extending between an elevation of 5, 150 - 4, 240 meters above the sea level, from the head to the snout, which is the terminal point of the glacier. A stream originating from this glacier meets Dhauli Ganga near the Juma village.
Trek To Doonagiri Glacier (20 Km)
Doonagiri glacier can be approached from Juma village that lies on Joshimath - Malari road. About 8 km from Juma, lies Doonagiri village. From here, one has to trek 12 Km alongside Doonagiri stream to reach the snout of the glacier.
Route Distances