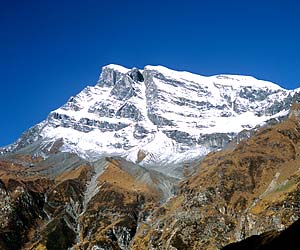 Pindari is a major Kumaon Himalayan glacier located in Bageshwar district within the hill state of Uttarakhand in India. Lying between the famous peaks of Nanda Devi and Nandakot, the glacier terminates at an altitude of 3627 meters above the sea level.
Pindar glacier is 5 Km long. The snout of this mighty glacier is 6 meters high and 2.5 meters wide. Located in the picturesque Pindari valley, the glacier occupies an area of 339.39 sq km.
Pindar glacier is the source of river Pindar. The Pindar valley is drained by this river. The Pindar river has cut a gorge in thick glacial deposits up to nearly 10 km, resulting in the formation of spacious glacial terraces spread on both sides of the gorge.
Pindari has a rugged beauty that is sure to charm anyone trekking through its virgin surrounds. All through the trek, one comes across high altitude Himalayan vegetation like rhododendron, oak, pine and so on. The breathtaking view of surrounding snow capped Himalayan peaks leaves one spellbound.
Trek to Pindari Glacier
The trek starts from Saung, which is also the base camp for the expedition. From here, a 3 Km trek will lead you to Loharkhet and further trek of 11 Km will bring you to a place called Dhakuri. From Dhakuri, you have to trek to Khati which is an 8 Km trek and further to Dwali which is 11 Km from Khati. After a 7 Km trek from here, you will reach a place called Phurkia from where Pindari glacier is just 5 Km away.
Route Distances
Saung to Loharkhet: 3 km
Loharkhet to Dhakuri: 11 km
Dhakuri to Khati: 8 km
Khati to Dwali: 11 km
Dwali to Phurkia: 7 km
Phurkia to Pindari Glacier: 5 km
How to Reach
By Road, Saung which is the base camp to Bageshwar, is connected to major destinations of the region like Bageshwar (36 Km), Almora (109 Km) and Kathgodam (199 Km). Nearest railhead is Kathgodam and nearest airport is at Pantnagar.