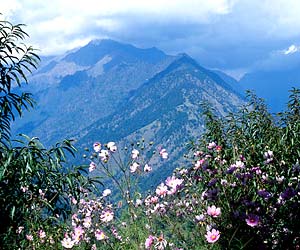 Sunderdhunga literally means valley of beautiful stones. Sunderdhunga glacier is situated in the district of Bageshwar within the hill state of Uttarakhand in India. Other famous glaciers of Sunderdhunga valley are Maiktoli Glacier (6, 804 M) and Sukhram glacier and main peaks are Tharkot (6, 100 M), Mrigthuni (6, 856 M), Maiktoli (6, 804 m) and Pawali Dwar (6, 663 m).
Sunderdhunga being a much sought after trekking destination, offers adventure clubbed with unimaginable natural beauty. The views en route the picturesque glacier, of surrounding higher Himalayan peaks leaves the visitor spellbound.
While walking through the pristine Sunderdhunga valley, one comes across mountainous sylvan surrounds, which still remain unblemished from the effects of rapid industrialization. The rhododendrons, oaks, pines et al. beautifully drape the entire Sunderdhunga valley which looks nothing less than heaven on Earth.
Trek to Sunderdhunga Glacier
Trek to the fascinating Sunderdhunga glacier commences at Saung which is 125 Km from Ranikhet. From here, a 5 Km trek will lead to a place called Loharkhet. From Loharkhet one needs to trek 11 Km to reach Dhakuri and further 14 Km to reach Jailoti. Jailoti to Sunderdhunga is about 21 Km via Khatulia. Sukhram caves which are nearby can also be visited.
Route Distances