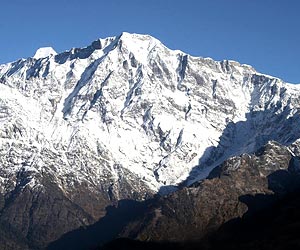 The word 'Namik' means a place where saline water springs are present. Namik is a fascinating glacier cradled in the pristine environs of Kumaon Himalayas, within the district of Pithoragarh in the hill state of Uttarakhand in India.
Situated at an altitude of 3, 600 meters above the sea level, this icy glacier is the source of river Ramganga. Namik is surrounded by captivating higher Himalayan peaks like Nanda Devi (7848 m), Nanda Kot (6861 m), and Trishuli (7120 m).
Interestingly, Namik glacier lies on an ancient Indo-Tibet trade route. It is about 40 Km from the tehsil place of Munsiyari. The glacier lies close to two villages - Gogina and Namik.
Trek To Namik Glacier (40 Km)
The trekking route to Namik glacier passes through beautiful undulating Himalayan terrain decorated with captivating high altitude vegetation. During the trek one encounters numerous small and big water falls and sulphur springs that originate from the glacier.
The fascinating trek to Namik glacier begins at Munsiyari, which is also the base camp for this trekking expedition. From Munsiyari, a 7 Km trek will lead you to Senar Gad meadows. Spectacular views of the Panch chuli range from here are sure to leave you spellbound. From here, an 11 Km trek will take you to Dhaldauk and further trek of 7 Km, to Sudamkhan. From Sudamkhan, Hiramani glacier is another 9 Km trek and another 5 Km from there is Namik glacier.
Route Distance
Munsiyari to Senar Gad Meadows: 7 km
Senar Gad to Dhaldauk: 11 km
Dhaldauk to Sudamkhan: 7 km
Sudamkhan to Hiramani glacier: 9 km
Hiramani glacier to Namik glacier: 5 Km
How to Reach
By road, the base camp of Munsiyari is well connected with major destinations like Delhi (612 Km), Nainital (288 Km) and Kathgodam (261 Km). Nearest railhead is Kathgodam and nearest airport is Naini Saini at Pithoragarh (128 Km).