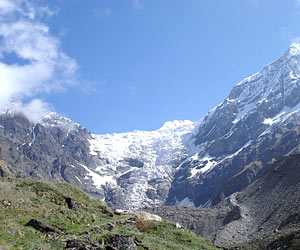 Kafni glacier which combines scenic beauty with tranquility is located in the district of Bageshwar within Kumaon region of Uttarakhand state. Kafni is situated left of Pindar Valley, below the famous peak of Nandkot and to the southeast of Nanda Devi peak.
Kafni glacier gives rise to river Kafni which is a tributary of river Pindar. Pindar is again, a tributary of river Alaknanda which is one of the two head streams of river Ganga.
Kafni, though a small glacier, is very popular amongst the trekkers. Compared with Pindar, the valley here is broader. The colorful high altitude flowers like that of rhododendrons make the journey to this icy paradise an unforgettable experience. Kaphini also offers breathtaking views of Himalayan summits like Nandakot (6, 860 m) and Nandabhnar (6, 236 m).
Trek to Kaphini Glacier (45 Km)
The exciting trek begins from a place called Saung. From Saung one has to first trek about 3 km to reach Loharkhet and further 11 Km to reach Dhakuri. From Dhakuri, an 8 Km trek leads to Khati from where Dwali is another 11 Km trek. The last lap is a 12 Km trek from Dwali to Kaphini.
Route Distances
Saung to Loharkhet: 3 km
Loharkhet to Dhakuri: 11 km
Dhakuri to Khati: 8 km
Khati to Dwali: 11 km
Dwali to Kafni Glacier: 12 km
How To Reach:
By road, Saung is about 36 Km from Bageshwar. Also, it is well connected to other important destinations of the region like Almora (109 Km) and Kathgodam (199 Km). Nearest railhead is Kathgodam and nearest airport is at Pantnagar.