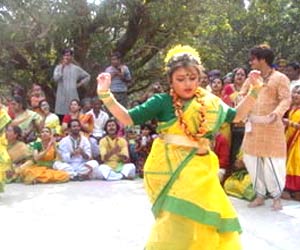 Celebrated In:
March (the date varies)
Celebrated At:
Shantiniketan, West Bengal
Duration:
One day
Basant Utsav literally means the 'celebration of spring'. The beautiful tradition of celebrating spring festival in Bengal was first started by Nobel Laureate Rabindranath Tagore, at Vishwabharati Shantiniketan, the University founded by him. Actually, Basant Utsav is no different from Holi, except for the gracefulness with which it is celebrated. The former is celebrated in a much dignified manner, compared to the boisterous Holi witnessed in most parts of India. Vasanta Utsav is a beautiful welcome to spring with colors and music, which has now become an integral part of the Bengali culture.
In Shantiniketan, Basant Utsav is celebrated with immense fervor and zeal. Boys and girls, dressed in yellow (basanti) color, welcome spring - the season of hope, in a very elegant manner. They greet spring not only with colors, but also with songs, music and interesting rhymes. The cultural fest organized here, on this day, offers some spectacular performances of arts and crafts, by the students of Vishwabharti University. They sing beautiful songs and also dance to the tune of pleasurable music in groups.
Later in the day, on Vasanta Utsav, the students as well as the teachers apply colored powders on each other. This powder is popularly called abeer (abhor). Following the coloring tradition, the entire premises of the university gets filled with the colors of abeer. A warm welcome is given to all the visitors and each of them is welcomed to join in this merry making festival. The air is filled not only with a number of vivacious colors, but also with the feeling of joy and hope, making the entire atmosphere delightful.