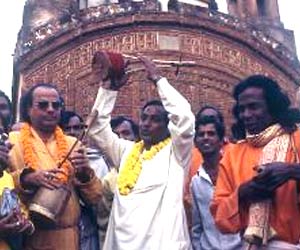 Celebrated In:
January
Celebrated At:
Kenduli, Birbhum district (West Bengal)
Duration:
Three days
The people of West Bengal celebrate their cultural lineage with immense love and respect. In fact, the celebration of their art and craft forms an integral part of their cultural heritage. Kenduli Mela is one of those traditional celebrations that celebrate the unique musical art of Baul community, a group of mystic minstrels, in Bengal. This fair is organized in Kenduli city of Birbhum district, the native land of Bauls. The mela begins with Makar Sankranti, on January 14, and ends on January 16. This three-day long affair pulls crowd from all over the country.
The mystic river Ganga accounts for Kenduli Mela. On the last day of Pous month (mid-January) of Hindu calendar, lakhs of pilgrims assemble in Kenduli, to have a dip at the Saugour Island Beach, on the estuary of Bhagirathi River. The holy dip is considered to be sanctified enough to wash away the sins of all past deeds. This ritual is accompanied with colorful fair, with a temporary market full of all local and traditional items of the place. Spiritualism, music and effervescent colors of joy seem dissolved in the air throughout the fair.
The most interesting part of Baul Mela is obliviously the Bauls, the bearers of a unique musical tradition. Dressed in saffron attire, with a distinctive musical instrument called 'Ektara', they sing uniquely about life's philosophy. They nimbly use innocuous expressions, in place of the ones considered offensive, and succeed in expressing their point of view. Their entire livelihood depends upon this singing. They now hold a distinct identity, after being included in the list of "Masterpieces of the Oral and Intangible Heritage of Humanity", by UNESCO.