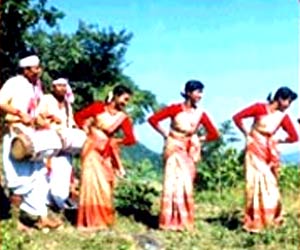 Celebrated In:
April
Celebrated At:
Throughout West Bengal
Duration:
One day
Naba Barsho, also known as Poila Baishakh, marks the beginning of New Year in Bengal. It is celebrated on the first day of Baishakh, as per the Hindu calendar. According to the Gregorian calendar, it falls either on April 14 or 15. It is a public holiday in West Bengal, with its celebrations dating back to the reign of Mughal Emperor Akbar. During Akbar's time, the last day of Chaitra (the month before Baishakh) was fixed to be the customary day for clearing all kinds of previous dues. On the next day i.e. the first day of Baishakh, all old accounts were removed and business began with all new transactions.
The first day of Baishakh was celebrated like a festival, with new dresses and delicious cuisines. Gradually, this celebration was completely inculcated into Bengali culture. Even today, on Nabobarsho, businessmen open new account books, called Halkhata, after clearing all the previous dues. They also visit the temples, to seek the divine blessings of God, for a prosperous new year ahead. Throughout West Bengal, markets are beautifully decorated, with garlands of mango leaves, sola and marigold flowers, on the occasion of Poila Baishakh.
The festival of Nabo barsho is celebrated with songs, dances, regional games and kite-flying as well, all through the state. People dress up in regional costumes, distribute homemade Bengali sweets and adorn the front gate of their house with Rangoli (beautiful patterns and designs on floors, filled with colors and flowers). Different types of fairs are also held in West Bengal on this day. The most famous of these is the one held at Nandan-Rabindra Sadan Ground, called the Bangla Sangit Mela.