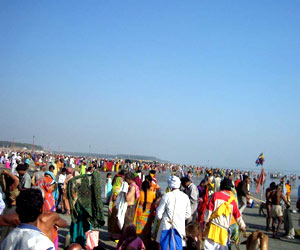 Celebrated In:
January-February
Celebrated At:
Ganga Sagar Island
Duration:
3-4 days
West Bengal is the state of fairs and festivals. A large number of festivities take place in this state throughout the year. Amongst them, one of the most famous fests is the Gangasagar Mela. It is held in the month of January-February, on the Ganga Sagar Island, at the mouth of the river Hooghly in Bengal. It is attended by thousands of pilgrims every year. A dip in the water at this place, during Gangasagar Mela, is considered to be extremely sacred. On the day of Makar Sankranti (January 14), when the sun makes a transition to Capricorn from Sagittarius, it is said that the bath becomes a holy source of salvation.
The holy river Ganges, after originating from Gangotri and traveling through plains of Rishikesh and Haridwar, reaches Bengal, where it is named Hooghly. In Bengal, this sacred river merges with the sea. Legend has it that, before combining with the sea, the Ganga watered the mortal remains of King Bhagirath's grandfather King Sagarís 60000 sons, liberating their soul from the cycle of life and death forever. After a dip into the holy river here, people generally visit Kapil Muni Temple situated nearby, to worship the idol enshrined there, as a mark of respect.
The story behind Kapil Muni Temple goes that King Sagar performed an Ashwamedha yagna to win over the entire universe. When his horse was about to win the entire earth, Indra - the King of Heaven became alarmed. He stole the blessed horse and tied it near Kapil Muni's Ashram. King Sagarís 60000 sons thought Kapil Muni to be the culprit and disturbed him when he was thoroughly engrossed in meditation. Out of anger, Kapil Muni cursed them to turn into ashes. It is said that then Bhagirathi, the only grandson of King Sagar, mediated over years to persuade River Ganga to step down from heaven and wash the mortal remains of his ancestors and bless them with salvation. The temple today marks the presence of Kapil Muni's Ashram.
Every year, a long fair is arranged at Ganga Sagar Island, in January and February. The fair becomes highly crowded on the Makar Sankranti day. It is assumed to be the largest annual gathering of devotees in India. The popularity of this fair can be understood from the fact that without any formal or informal invitation, advertisement and organizing authority, more than a million pilgrims come here every year, from different parts of India, just to take a holy dip in the Ganges. Apart from the general pilgrims, the assemblage of Naga Sadhus here gives a unique identity to this fest.